We would all like to see violence give way to peace, and killing to creation. Mexican sculptor Pedro Reyes wants to show the world that this is possible by transforming confiscated weapons into musical instruments. A new short film from Sennheiser explores the incredible art of Pedro Reyes as part of the audio specialist's MOMENTUM project, which seeks to showcase the life and work of some of the world's most inspirational people, sharing their projects and unique achievements in the world of sound.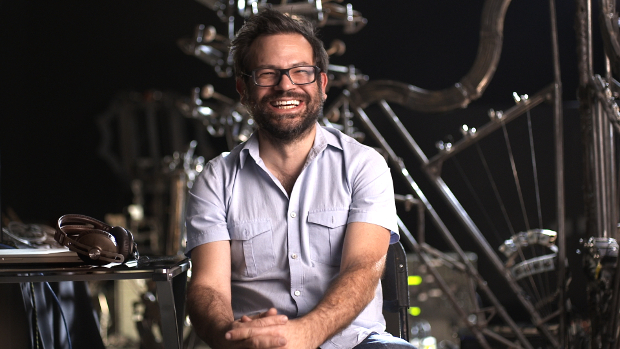 For Sennheiser, Pedro Reyes embodies the spirit of MOMENTUM. With his unique artistic vision and passion, he is realising the dream of turning violence into peace. His work takes thousands of guns – the embodiment of violence – and turns them into the essence of peace, participation and unity. These guns, many of which have been fired in anger, are now fully functioning musical instruments.
The short film 'Disarm', named after Reyes' current exhibition, is one of many inspiring sound stories presented by Sennheiser together with Spotify through the 'What's your MOMENTUM?' social video project. It explores Pedro Reyes's work creating fully functioning musical instruments from the same weapons that caused so much destruction through Mexico's years of drug violence. Reyes' 'Disarm' is an exhibition of works that include guitars, saxophones, drums and even a full-sized marimba that replaces wooden keys with sections of gun barrels, painstakingly sawn down to create the perfect notes in the musical scale.
"A musical instrument is something that constantly generates life, when you play, everyone who listens will connect to the music and to one another. The 'Disarm' project took an object made for killing and transformed it into an instrument for creativity," explained Pedro Reyes. "Weapons produce fear in the world and music is precisely the opposite, it's truthful. I would like to see artists all over the world transforming weapons into musical instruments. I believe in the power of art to produce change."
The MOMENTUM film about Pedro Reyes also explores a recurrent theme in Pedro Reyes's career – ideas of renewal, rebirth and sustainability. As well as instruments that can themselves be used to compose and perform music – offering endless possibilities for creativity – Reyes' previous projects have seen guns reformed into shovels to plant trees.
"This spirit of creativity, inspiration and determination makes Pedro Reyes the embodiment of what Sennheiser seeks to explore and celebrate through the 'What's your MOMENTUM?' project", said Anaseth Martínez, Marketing Manager at Sennheiser Mexico. The social video project from Sennheiser together with Spotify presents 100 inspirational 'sound stories' of trend-setting individuals – musicians, artists, and inventors from around the world – that all share a connection to sound.
The films focus on their unique, uncompromising commitment to innovation, and the way in which each individual embodies a spirit of MOMENTUM, or the drive to stay one step ahead of the crowd. However, presenting the sound stories is just the start – the project also invites viewers to create their own user-generated responses to the sound stories that show their own inspirational stories and interpretation of MOMENTUM.
"Pedro Reyes wants others to be able to take the instruments he has made and in turn create their own art, inspiring other artists to take his ideas forward to build a movement. Similarly, a core part of 'What's your MOMENTUM?' is inspiring others and encouraging them to take an idea and play it forward. We are seeking to build 'video chains' – where users can connect their videos to other stories that share the same themes or ideas," explains Uwe Cremering.
Viewing the sound stories and uploading videos is possible via the campaign microsite at www.sennheiser-momentum.com. Participants can win music-themed city break experiences, MOMENTUM headphones and six-month Spotify Premium subscriptions.