The Dutch company Yalp has won the highly esteemed Red Dot design award. An expert jury awarded this international award to the exceptional product design of the Fono outdoor DJ Table.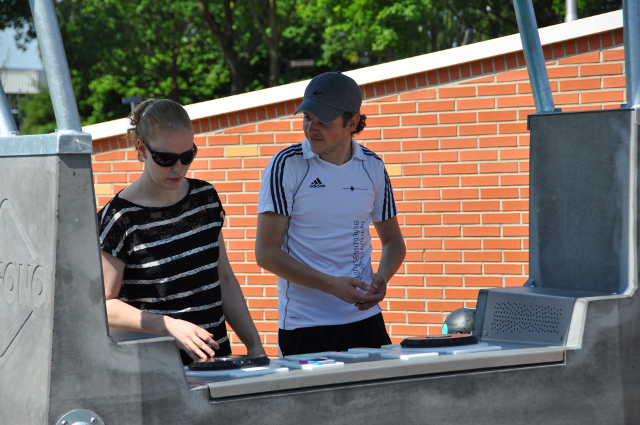 The Fono is created for youth to be able to DJ themselves, with their own music, in the public space. This unique product was prized for its exceptional functional design and robust and modern appearance. The design was chosen amongst 4,815 entries from 53 countries competing in various categories.
winning design
The Fono is a new take on playing outdoors, bringing together the worlds of outdoor play and interactive gaming. With the DJ table Fono everyone can play the music of their smartphone live in the public space, be creative with it by adding effects and other DJ fuctions, while their friends hang out and dance together at the corresponding meeting place. RedDot winner and Fono designer
Rob Tuitert : " The Fono is a unique product that relates to trends among young people. It offers youth an opportunity to be creative with Music. They do not have to follow a course or buy expensive turntables, but can simply go to a Fono and start DJ-ing out in the street. The Fono is not only popular with the youth, as we noticed when we brought it in for the Red Dot award. In no time, the staff were playing on the Fono. That ́wow ́ response you get when you first discover the Fono, combined with a low user threshold, make Fono a success. We are very proud of winning such a internationally famous design award. "
The Fono is designed with a lot of smart innovations integrated. The sound of the smartphone is amplified with use of a patented technology, and the Fono produces it ́s own green energy using solar panels on the roof. Next to that, all electronics are integrated into a sleek concrete form, protecting the insides against harsh outdoor conditions. This Dutch DJ table design is already playable in the Netherlands, Finland, Denmark, Sweden and Australia.
More info at: www.yalp.nl