Dave Smith today announced the Sequential Prophet-6, a new 6-voice synthesizer with an all-analog signal path and discrete VCOs and filters. Auspiciously branded with Smith's recently reacquired original company name, the new instrument is aimed squarely at musicians in search of vintage tone with the reliability of modern technology.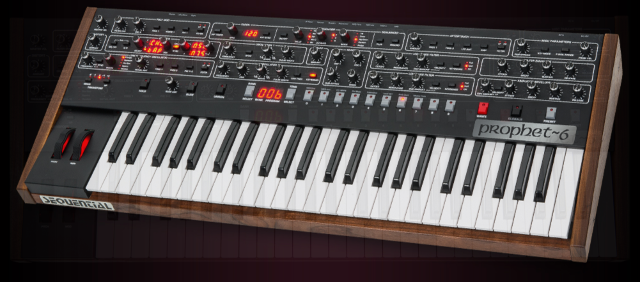 Said Smith: "The Prophet-6 is a tribute to the original poly synth that started it all—the Sequential Prophet-5. But more importantly, it's the culmination of our effort to build the most awesome- sounding, modern analog poly synth possible." Added Smith: "It's not a reissue, it's vintage with a modern twist."
The Prophet-6 features two newly-designed, discrete voltage-controlled oscillators (plus sub-oscillator) per voice, with continuously variable waveshapes (triangle, sawtooth, and variable-width pulse). There are two discrete filters per voice: a four-pole, resonant, low-pass inspired by the original Prophet-5 filter, and a two-pole, resonant, high- pass filter. Voltage-controlled amplifiers complete the all-analog signal path. "Our new VCOs, VCAs and filters give the Prophet-6 terrific warmth and presence," said Smith. "The classic, big, punchy analog poly sound is all here."
Also present from its classic predecessor is the much-loved Poly Mod section, albeit with enhancements. True to the original, modulation sources are filter envelope and oscillator 2 (both with bi-polar control). Destinations however, have been expanded to include oscillator 1 frequency, oscillator 1 shape, oscillator 1 pulse width, low-pass filter cutoff, and high-pass filter cutoff. Another welcome reprise is Unison mode, which features configurable voice count (1-6 voices) and key modes.
The knob-per-function front panel is free of menu-diving, offering immediate access to virtually all parameters. Toggling off the Preset switch enables live panel mode, in which the sound of the instrument switches to the current settings of its knobs and switches. "We wanted to make the Prophet-6 as fast and easy to navigate as possible. Switch off Preset and what you see is what you hear," said Smith.
A significant enhancement to the original design is a dual effects section with studio-quality reverbs, delays (including standard and BBD), chorus and phase shifter. While the effects themselves are digital, with 24-bit, 48 kHz resolution, a true bypass maintains a full analog signal path. An independent stereo distortion is also provided and is 100% analog.
Additionally, the Prophet-6 features a multimode arpeggiator and a polyphonic step sequencer with up to 64 steps (and up to 6 notes per step) plus rests. It allows polyphonic keyboard input and can sync to external MIDI clock.
The full-size, four-octave, semi-weighted keyboard is velocity and aftertouch sensitive. "We completely empathize with project studios and gigging musicians," said Smith, "so we made size a primary concern on the Prophet-6. We think it's an ideal mix of portability and power. Best of all, it sounds amazing. Musicians are going to love it. "
The Prophet-6 will be available in the second quarter of 2015 with a projected MAP of $2,799.