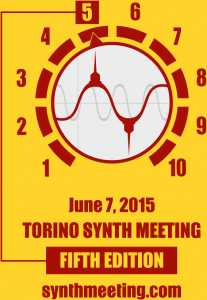 The Torino synth meeting engine is back in gear! After last year's success which saw the participation of 6 professional exhibitors, numerous presenters and private collectors, 1 workshop, 2 concerts, 2 venues and an increasing number of visitors, the event dedicated to synthesizers and electronic musical instruments is back for the fifth edition and bigger than ever.
Strengthened by our experience accumulated in the previous years and by the positive feedback that we have received so far, our aim with this "Fifth" edition is to, through the help of the participants, create a meeting even richer in content both from the point of view of exhibition as well as debate and public discussion.
Considering the success of the fourth edition and its perfect synergy, this year's technical partner will once again be disconet.it.
What is the Torino Synth Meeting?
SM​ started in 2011 from an idea of Francesco Mulassano​ (Ultrasonica.it, Noisecollective.net, Urbanspaceman, Space Aliens From Outer Space, Tacuma Orchestra) together with Luca Torasso ​(Sandblasting, Noisecollective.net, Rustblade Records). The idea was to create a day of meeting and trading between collectors, musicians and anyone passionate for the world of synthesizers and electronic musical instruments in general. An appointment where one can see and try rare and unusual instruments as well as buy, sell and trade.
A meeting point for those who share the same passion and an occasion to give a space to new artists through a series of concerts and performances. Starting with the fourth edition, it's the ideal stage for companies in the sector.
The event is in fact open to producers, importers and distributors of musical hardware and software. These participants, identified as Pro Exhibitors​, will have an exhibition space dedicated to them and, upon request, a stage area for presenting their own products.