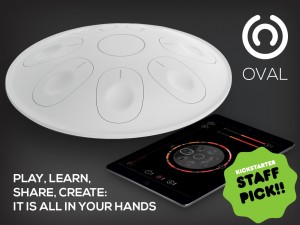 It may look like something that's escaped from Area 51, but the Oval is in fact an electronic musical instrument that connects to an App for smartphone or tablet (for both iOS and Android, which is very rare) and can also be used as a controller when connected to a computer. Inspired by the HandPans family of acoustic instruments, the Oval provides total freedom to create sounds. It's a tool geared towards music learning and performing, as it allows you to both change and create sounds as well as also being a tool for sharing your compositions with an on-line community of users.
Having been successfully funded in just 48 hours, the Oval offers many ways to enjoy music besides just listening. The Oval team believe that learning music should be fun and that an instrument should be made to be ready to play right away. The Oval speeds up your music learning curve by leveraging the power of technology, gaming and sharing with others.
The external case is made of Solid Surface composed by natural materials – minerals like bauxite, marble and quartz – as well as natural resins and acrylic.
Carefully designed, the Oval is light, portable, durable, minimal, simple and energetically self-sufficient.
The Oval is ergonomically designed and can be played in many ways. Highly sensitive, intuitive, easy, durable and (children-proof) resistant!
Designed, engineered and made with care in Barcelona.
Multi Sensing Pad with velocity and X/Y location.
Pressure sensitive sensors for higher expression control, more organic sound, and complex possibilities such as using multiple layers of samples.
Illuminated PADS provide visual cues for follow along mode, metronome mode, and musical games.
The new Oval App offers multiple functionalities so you can play, learn and share your music in a simple, fun and intuitive way:
Upload your own sounds and play them in different scales
Add effects
Use it for live looping, recording sounds on the fly and layering them.
The App is like a mini 4 track sequencer
Adjust the PAD's sensitivity
Download other user's songs
Do the weekly challenges to access more sounds and features
Upload your own songs
Through their website and community you'll be able to download tutorials, share your sounds and compositions as well as comparing your progress with others. They use the power of gamification to provide weekly challenges where you'll get a score, local and global to compete to be the best Oval player ever!
Meet other Oval users and performers online and share your improvements, download sounds and tutorials, demos and songs from other users. Sharing is caring!
Learn, play, share, create, compete with other users to be the best Oval performer. Challenge yourself!
Play songs with other users
Create and share your own songs
Upload and share your sound banks
Download and play with the weekly challenges and get your score and global and local ranking
Learn music by playing simple songs, experiment with the methodology and get to the next level!
The Oval comes in three colours – Glacier White, Royal Red and Deep Grey. For more information, please visit the Oval Kickstarter page.