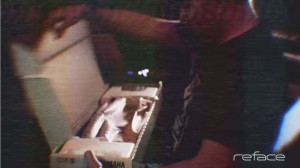 Yamaha teased us recently with news of what appeared to be a new synth called Reface, but gave very little away (apart from a short YouTube video clip).
After many hours of online searching to try and bring you more news, we may have more information on what Reface actually is! An image has appeared online of it's unboxing shortly after Yamaha revealed a second video clip. The artists featured in the video make reference to it being small (but solidly built and sturdy), one even referring to it as seeming like a toy. To my mind, this would suggest something along the lines of Yamaha's classic CS-01 (and CS-01 Mk.2) synths from the early 80's.
So this is just a remake? No, it doesn't seem that way at all. Yamaha have been sending teaser e-mails which show four of it's classic instruments. First in the image is the YC-20 organ followed by the CP-70 piano. Next is the CS-80 analogue synth and finally, the DX-7 FM synth. This suggests that Reface could be a "Best of Yamaha" in a microKORG sized package. It's not yet known if these engines can be combined, but from the sounds featured on the two video clips, it would indeed suggest that this is possible. I have also heard that a software editor may accompany it, as with so many different engines under the hood, it might be difficult to access them all without one (think along the lines of the one included with the Novation MiniNova).
I must make it clear that this is information gathered from various sources and not information given to us directly from Yamaha themselves, so until we have such, take what you read here as speculative.
For more on Reface, please visit Yamaha Synth website.