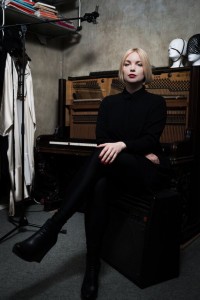 Singer, producer and composer Emika is launching a Kickstarter project to fund her first-ever symphony, to be recorded by the 70-piece Prague Metropolitan Orchestra. 'How To Make A Symphony' is her most ambitious project yet, following on from her four artist albums and the launch of her own Emika Records imprint. With the vocals of soprano Michael Srumova and Emika herself composing and producing the entire work, it's set to be something truly stunning.
"I've wanted to compose a big piece for a symphony orchestra since I was a kid studying at music school" the Berlin-based, Anglo-Czech artist says. "It's something that scares and excites me in equal measures, and something which I've been working towards for a very long time. I met Michaela the soprano in Prague when I was recording a string piece for my track 'Dem Worlds',which featured on my second album 'DVA'. I fell in love with her voice and she became my first serious muse. I was so inspired by the experience that I promised myself I would compose something much bigger."
She promises a piece that applies her trademark production processes to classical composition, filled with echo concepts, deep resonant bass, haunting lyrics and twisted song narratives.
"I have attempted to create a fresh sound for the orchestra and a new context beyond the constraints of traditional classical music. With traditional scores and orchestras, you never know exactly how it is going to sound. It can be affected the mood of the performers, or the sound of the space it's being played in. It's a huge risk. That's why I'm so excited about it. I thrive on challenges."
She's calling on her fans to help her bring the project to life, with rewards including 1-on-1 Skype production tutorials or a trip to Prague to see the album being made and dinner with the composer herself. "I decided to try and fund this project using Kickstarter because it's the biggest project I've ever undertaken, and the first time I've done something like this as an independent artist. I think it is very cool that today, if the people want the music, they can directly engage and play a part in its creation. I will give people the chance to experience how to make a symphony, through sharing my creative process on my social media pages. I have documented everything for the past year and a half, from sketches of sound shapes, concepts, visiting different studios, rehearsing with the soprano, converting electronic sounds to music scores. It's going to be fun to share my private sketchbooks and ideas with everyone."