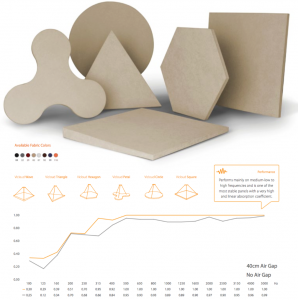 At infocomm MEA Dubai Vicoustic, one of the most dynamic companies providing solutions for improving room acoustics, present the new ViCloud acoustic Islands. In a lot of restaurants and public places it is not possible to install proper acoustic treatment. Very often it would be necessary though. Everyone knows the restaurants and bars where the level of conversational noise rises to the point where you have difficulties to maintain a conversation. For all these places Vicoustic now offers a very easy solution: The ViCloud acoustic islands.
ViCloud Islands are extremely effective acoustic panels that can be easily suspended from the ceiling with adjustable height, suitable for home theatres, restaurants, hotel conference rooms and lobbies. The Islands are available in various shapes and designs. The application is easy with the included hanging system above tables, and meeting areas.
The ViCloud Island are available in a number or different shapes: ViCloud Petal, ViCloud Circle, ViCloud Triangle, ViCloud Wave, ViCloud Hexagon and ViCloud Square.
ViCloud Island are innovative products made from Vicoustic Tech Foam and are covered with fabric. Their acoustic performance is excellent at mid and high frequency absorption, making them an efficient and aesthetically pleasing solution for loud public spaces. Vicoustic Islands are produced from fire resistent materials to meet every public security demand.
Pricing and Availability
The Vicoustic ViCloud Islands are available from November 2015 at dealers worldwide: Euro 495,-/ USD 560,88/ GBP 362.25 All prices excl. VAT and shipping, local variations in price may occur.