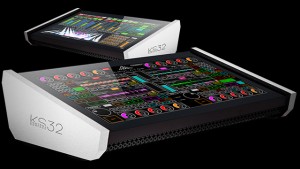 Smithson Martin  the creator of the world's first touch control DJ systems, is pleased to announce the introduction of its new Kontrol Surface 32. This new system compliments a robust portfolio of touch-enabled products that includes the world renowned Emulator.
The KS32 has been designed to provide a large touch enabled surface so you can more accurately emulate and modify your favorite hardware through the customizable touch surface templates. The KS32 has been designed to perfectly compliment your PC software and will soon include support for Mac OS X with Emulator 2.0.This solution will be one of the first to come out as a fully Mac compatible touch surface for any of your preferred software programs.
Additionally, you will be able to select from an expansive list of standard templates that resemble your preferred controllers using the new 10 point capacitive touch solution. With a touch area of 32 inches, and the standard template designs, you're now able to perfectly execute your creativity without limitations of space or being restricted to a specific OS.
The unit's capacitive touch area has less than a 5 millisecond response time making it one of the fastest available in its market. The ultra bright screen provides exceptional viewing experiences no matter what environment you so choose to perform in.
"The KS32 provides a comfortable space to give you all the control you need." says Karl Detken Chief Marketing Officer from Smithson Martin. "Choose from the many soon to be released templates for your preferred software, load into Emulator 2.0 and enjoy your creative works of art without fear of having any points of failure."
Specifications:
Screen size – 32 inch
Resolution – FULL HD 1920×1080 native
View angle – 170/170
Power supply – 110v to 240v automatic
Touch points – 10
Touch technology – PCAP.
Operating Systems – Windows 7, 8, 8,1 10 and OSX compatible
The KS32 will be available in Q2 2016 with an MAP of $2,499