Posts Tagged 'Edirol UA-101'
EDIROL is proud to announce new Mac OS X USB 2.0 Drivers for EDIROLs UA-101 and UA-1000 USB Audio Interfaces.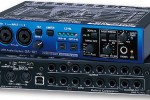 EDIROL, the first company in the world to release a USB 2.0 audio interface with the introduction of UA-1000 – is now proud to announce their latest USB 2.0 product – the UA-101. Building on technology development achieved through a series of successful USB Audio products, the UA-101 represents Edirol's very latest compact audio solution for PC, providing 10-in / 10-out, 24-bit/96kHz full duplex audio with MIDI I/O in a compact half rack unit. Powerful, low-latency drivers with WDM and ASIO 2.0 support complete the package.


The Edirol UA-101 allows simultaneous recording of 10 channels of audio at 24-bit, 96kHz, or up to 6 channels of audio at 24-bit/192kHz. Two high quality mic pre-amps allow you to record directly into the UA-101 through the XLR/TRS combo jacks. One XLR/TRS combo jack is equipped with a Hi-Z input to easily connect a guitar or bass without the need of a direct box. To ensure that your input signals stay within acceptable levels there is an analogue limiter letting you get the maximum from the inputs yet still record without clipping. A further 6 TRS jacks provide balanced inputs that are switchable between +4 or -10 dBu, allowing matched input from any line level source. Finally there are optical S/PDIF in and out ports for your digitally-equipped audio devices.