Small but stout, that's what the Little Phatty is all about! We are so proud of this product we can't help but shout exultations. We hope you will feel the same.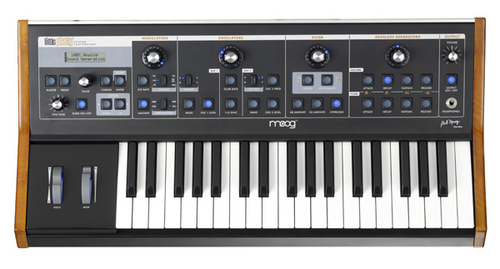 "We wanted to offer a true analog synth for musicians seeking a simple, clean front panel, in a visually stunning package, at a reasonable price point. I feel we accomplished all four objectives."
Mike Adams, President
Introducing the Little Phatty™ Analog Synthesizer
Hand-built quality and that unmatched Moog sound, at a price every musician can afford, Little Phatty was designed with portability, expressive and intuitive playability, and the timeless quality only found in a Moog.
The Little Phatty boasts a 100 percent analog signal path, 100 user editable presets and a 37-note keyboard with +/-2 Octave Transpose. Additional features include:
– 2 Ultra-stable Oscillators
– 1 Low Pass Filter (Patented Moog Ladder Filter)
– 4-Stage Analog Envelope Generators
– RAC™ Real Analog Control is a proprietary technology enabling the performer to directly interface with the analog circuitry via the knobs on the control panel, without any digital processing.
From studio to stage, the Little Phatty is a musician's dream. Moog's innovative engineering and tried-and-true manufacturing mean you can have the sound you want at a price that's well within reach.
-100% All Analog Signal Path
-Sound Engine From Bob Moog
-Low Price
-Designed for Performance
-Looks Cool
Moog will initially release a special, limited edition run of 1,200 individually numbered Bob Moog Tribute Edition synths.
The limited run, Tribute Edition of the Little Phatty has special Moog wood side panels, a Bob Moog signature plate across the front and rear, comes with a CD-ROM featuring highlights of the Bob Moog Memorial Celebration Service and a special Bob Moog poster. If you have been waiting to go analog, your wait is over.
The Little Phatty from Moog Music has arrived. Moog authorized dealers will be the first to have the Little Phatty. Click the 'Dealers' Tab above and put your Little Phatty on order today.