RMEs new MADI converter will be presented on the Frankfurt Musikmesse. This highly practical device, a new item in RMEs Premium Line series, converts MADI digital audio streams from optical format to coaxial and from coaxial to optical.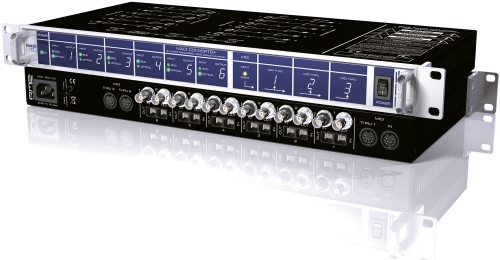 The compact 19″ 1U unit device contains 6 fully independent bi-directional converters.
The MADI converter will operate with any MADI format, be it 56-channel, 64-channel, and with any sample rate, even out-of-spec rates, and will transfer "invisible" control bits unchanged. Special equalisation and highly sensitive input stages allow distances of up to 100 meters coaxial cables. Up to 2000 meters can be covered with optical cables.
All 12 inputs are equipped with status LEDs on the front panel. Any input signal will pass through absolutely unaltered. Additionally, a MIDI distributor allows copying one MIDI input signal to three MIDI outputs. Several devices can be controlled without an external MIDI distributor.
The MADI converter is an ideal companion to RME's MADI Bridge. Its six coaxial inputs and outputs can be converted to optical, which is advantageous in live and installed setups, and for longer cable lengths. The device can be placed underneath the MADI Bridge ideally; the coaxial in- and outputs of the two devices will be right next to each other vertically, and can be connected with short patch cables.
The specially developed internal high performance switching power supply allows operation of the MADI converter with voltages ranging from 100 to 240 V AC worldwide.
The MADI converter will be available from RME dealers in April 2006.