Professional audio equipment manufacturer Alta Moda Audio today debuted the Hippo stereo compressor/limiter, the latest product in Alta Moda's expanding range of popular 500-series rack products.
The Hippo is a VCA-type compressor/limiter housed in a 2-space 500-series compatible module. Modeled after well-regarded console bus compressors used throughout the '80's and '90's, the Hippo has many enhanced features including expanded control ranges, sidechain filters for better bass control, a warmth function for added harmonics, and Alta Moda's popular wet/dry blend control. A special feature of the Hippo is its ability to run in Dual Mono mode. This "unlinks" the sidechains and allows the channels to operate independently of one another. Retail price of the Hippo is $1,295.00.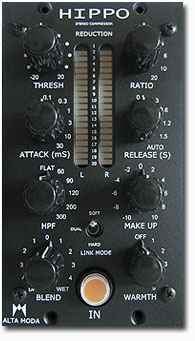 Although primarily intended for mix bus and mastering applications, designer Paul Ricchiuti states, "Being able to unlink the channels makes the Hippo far more versatile than a conventional stereo compressor. Recording engineers will find the Hippo very useful for tracking duties where two matched mono compressors might be used; drum overheads, tom sub-mixes and keyboard tracking – to name just a few."
Alta Moda makes the highly acclaimed Unicomp all-discrete stereo compressor/ limiter as well as a line of quality, high-performance modules for 500-series compatible rack enclosures. A complete list of Alta Moda Audio dealers can be found at www.altamodaaudio.com.