KOMPLETE 7 is the latest version of the ultimate software collection from Native Instruments. Now bigger and better and featuring 24 KOMPLETE Instruments and Effects, this 90 GB package is bursting with more than 10,000 production-ready sounds for all styles and genres. KOMPLETE 7 features renowned flagship products like KONTAKT, GUITAR RIG and the redesigned REAKTOR 5.5 plus all-new instruments and effects from Native Instruments and brands like Abbey Road and Scarbee.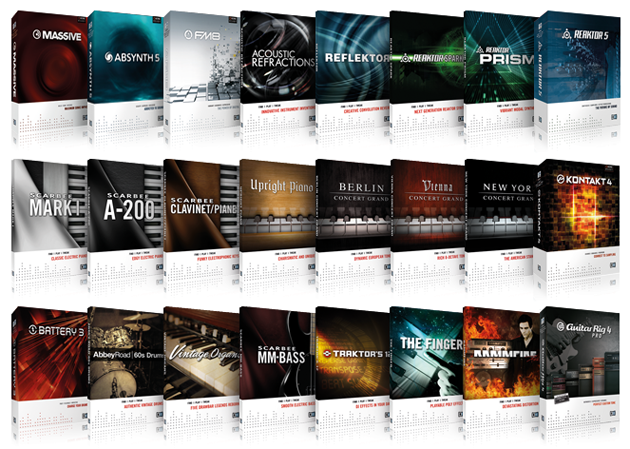 Containing 24 groundbreaking and multi-award-winning samplers, synths, guitar/bass amps, instruments and creative effects, this collection represents Native Instruments' essential software tools for musicians, producers and sound designers alike.
24 Komplete Instruments and Effects
10,000 sounds and 90 GB of samples cover a lot of sonic territory – from hip-hop to film scores, from pop to techno to classical and beyond. KOMPLETE 7 includes everything from the dirtiest synths to heavenly choirs, pounding drums and mesmerizing effects. With 12 newly included products, previously only available individually, plus five all-new Instruments and Effects, this adds up to the most powerful KOMPLETE collection ever!
KOMPLETE 7 delivers a tremendous selection of top-flight instruments, effects and emulations at an equally tremendous price: just $559 / 499 € for all 24 products – instead of $3,246 / 2,906 € if bought individually.