There's No Other Way… Than Audient Zen for Blur Producer – One of the music world's top producers, Stephen Street took just ten minutes to decide that Audient's Zen would be the ideal console for his new studio room. With a reputation for creating hugely successful recordings with Kaiser Chiefs, Blur, and The Smiths to name but a few, Street wasn't going to compromise on his new desk.
"I wanted an analogue console with facilities for DAW control," explains Street. "I was well aware of the quality of Audient desks having used one at the last studio that Cenzo Townsend and I shared at Olympic (the Bunker). Zen features a similar dual-input design to the 'big' consoles, with both DAW sends and returns handled through the same channel strip. A demo was sorted out for me really quickly and after ten minutes I knew it would be right for me."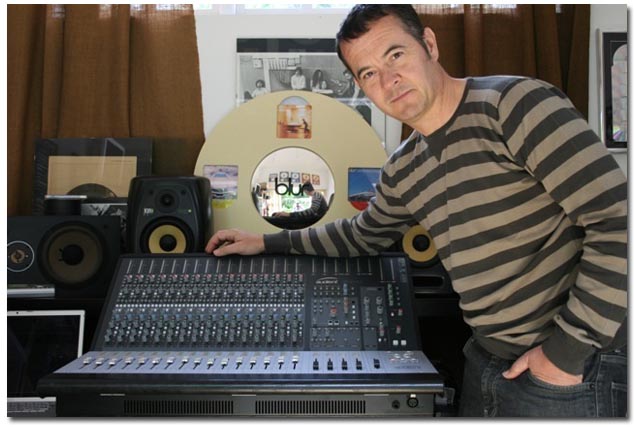 After a few short weeks with his Zen, Street continues to be satisfied. "I like the way it provides balanced inserts for users to plug in their own external processors. I also love the stereo bus compressor built into the Zen's master section that can help to 'glue' a mix together," he enthuses.
"I'm now able to enjoy the advantages of DAW music mixing with complete recall and plug-in processing, but then use vintage analogue processing for the final balance. Individual track elements are more present than when mixed "in the box" – they seem to have more 'air' around them."
Street has been spending his time working on several unsigned acts this year, most recently The Funeral Suits from Dublin. "There seem to be so many great bands around these days, who 5 years ago would have a deal no problem." His website www.stephenstreet.net charts past and current projects.
Supplied by London-based Audient dealer Media Pros (www.mediapros.co.uk), Street's Zen is currently in his home studio, where he uses it along with an API 'Lunch Box' with some EQ. With his move into a new studio room scheduled for October, size and ease of use were strong factors in his choice of desk. "The Zen was extremely easy to set up, and the manual is very well written and clear which is a nice bonus.
"Overall it sounds clean and transparent. I've not had chance to use the mic amps yet, but if they're anything like the ASP8024 desk I had in the Bunker, then I'll be happy."