Jay-Z is in the midst of a world tour with a string of US dates and European festival appearances accompanied by a FOH Midas XL8 live production system, provided by Clair Brothers. At the controls is Kenyatta 'Kelo' Saunders, the rap artist's long-time sound engineer and Grammy-award winner, who's worked with artists including D'Angelo, Eminem, The Roots, Joss Stone and Erykah Badu.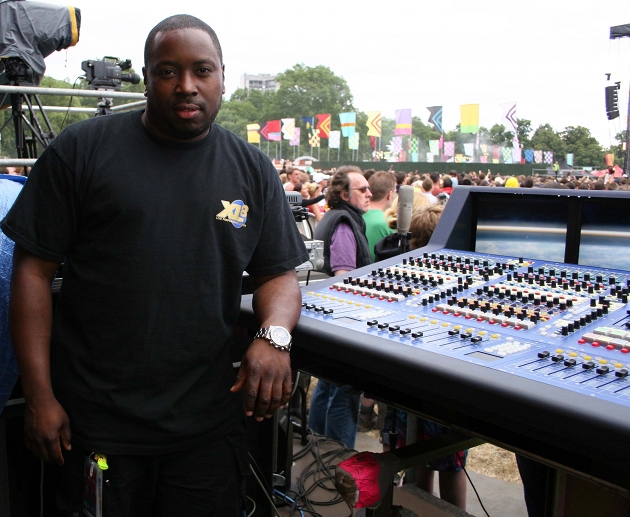 Philadelphia-based Kelo has favoured Midas consoles throughout his long and distinguished career, and this was his first outing with a Midas digital system. "At heart I'm an analogue guy," he confesses. "I've been using the H3000 for most of my work for years, and I'm all about the warmth of analogue! I've tried other digital consoles, but moving to the XL8 is the only thing so far that makes me feel at home, I love it.
"I was able to get my mix going very simply; the learning curve was incredibly low. I went to Midas Consoles North America in Minneapolis for a couple of days, and it took me about 20 minutes with (national sales manager) Jay Easley to have a good understanding of how to get around. We used recordings from the Klark Teknik DN9696 to really dial in the mix and after that process I was very comfortable. The XL8 is very engineer-friendly and has been by far the easiest digital console I've worked with."
Kelo has been using the XL8's Area B in dual mix mode. "I like being able to mix and have my tech work out any problems without stopping my workflow, and this is genius!" he says. "I can set up the focal channels for each song and have them just a touch away. I break the band down as if it was a studio mixing session, with each VCA group being a different instrument type, and the last two VCAs as master vocal and master band faders. This makes it easy to bring down the overall level of the band if I need the voice to stand out a little more."
The XL8's sound quality impressed Kelo straight out of the box. "The XL8 has surpassed my expectations of what a digital console should sound like," he says. "The mic pre's are everything I would expect from Midas and the phase correction is immaculate. When I close my eyes and just listen, I still find it hard to believe that it is digital.
"The EQ, gates and multiple compressors are stellar. When you EQ something you can hear it changing just like on a Midas analogue console. The multi-band compressor is my all time favourite. Jay-Z naturally has this 2- 2.5k thing on his voice depending how hype he is. The multi-band compressor allows me to keep that under control without sounding too extreme."
Another feature which Kelo found invaluable during the summer festival season was the XL8's five daylight-visible screens with 3-way KVM switch. "The screens are highly visible in sunlight, and I like the fact I can keep my eyes on the stage while making adjustments on the console," he says. "I've taken advantage of the KVM switch to add the DN9696, so I can see and control my recordings straight from the desk without leaving it."
Jay-Z, Kelo and the XL8 are rounding out the summer with more US live dates, including four joint concerts with Eminem in Detroit and New York.