It looks like Vengeance will be adding a Multiband Compressor to their line of plugins. The Mastering Suite will be the third plugin next to Metrum: Kick Synthesizer VSTi and Vengeance Producer Suite: Multiband Sidechain plugin. Priced at 149 Euro the new Mastering Suite will be available for Windows and Mac, however no RTAS and PowerMac versions will be available. For activation of the software a (syncrosoft) dongle protection USB device is needed.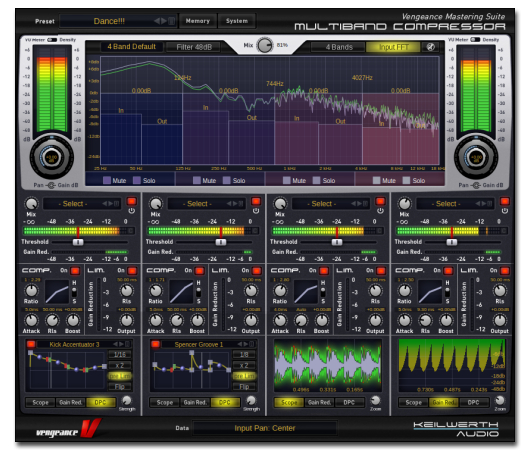 Features Vengeance Mastering Suite – Multiband Compressor:
– VST / PC & Intel Mac VST / AU – runs in all compatible hosts
– you can choose between 1 band, 2, 3 or 4 band mode
– high quality filter models, from 6db to 96db – without any phasing issues!
– up to 4 independent compressors (one per selected band)
– hard-/softknee mode, optional autogain, optional autorelease for every compressor
– graphical Ratio/Treshold curve display
– up to 4 limiters (one for each band) + 1 mastering limiter (sum), also with autorelease
– New York Compression: MIX knob, to bring back some original dynamic!
– live waveform scopes for every channel
– realtime FFT analyzer (in-/output overlay to compare dry and wet signals)
– unique new feature: the "DPC" (dynamic pattern compressor)
– anti distortion filters for ultra-short releasetimes
– many cool presets included: ranging from complete masterings to special fx
– all parameters are automatable (host)
– Copy Protection: elicenser USB Dongle required! (www.elicenser.net)
As I mentioned before it looks like this plugin is ready to be released, allthough the official announcement/release is still to come!