This past week Red Bull had a luanch party in Amsterdam for the BPM app for DJ's. Turn your mobile phone into a complete DJ set-up and hit the road with the new Red Bull BPM range of apps for your iPhone, iPod touch and iPad. Whether you're a pro DJ mixing at a club or mixing music in your bedroom, the range of Red Bull BPM Player apps can put a complete mobile DJ booth in your pocket. Quick to install and easy to understand, the apps are compatible with a wide range of sound formats. You can use it on it's own and even in harmony with your traditional vinyl decks or CD-player. Just add an iPhone, iPod touch or iPad.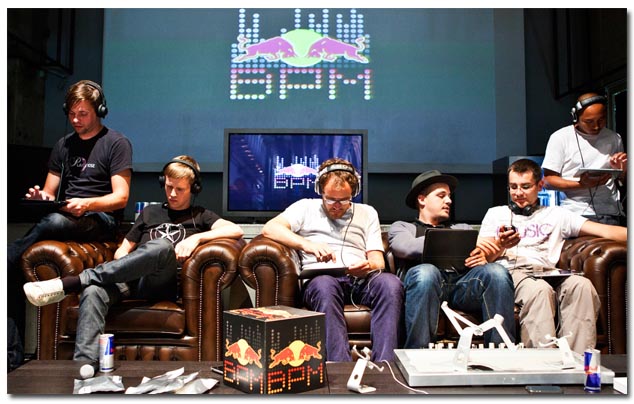 Red Bull BPM HD is the third app from the BPM series. BPM HD can be used by professional DJs. It fulfills all requirements of modern-day DJing by offering the 21st century digital equivalent of a traditional DJ set-up with two decks and a audio mixer. The app is custom-made for the iPad screen, focused on performance, low latency and core functionality rather than silly graphics effects. It is a high quality tool for the performing DJ with high-precision track control and real time response providing a new experience for DJing, so you can perform a set while leaving your laptop at home. All this and it's easy to install. Plug it in, switch to line and you're good to go…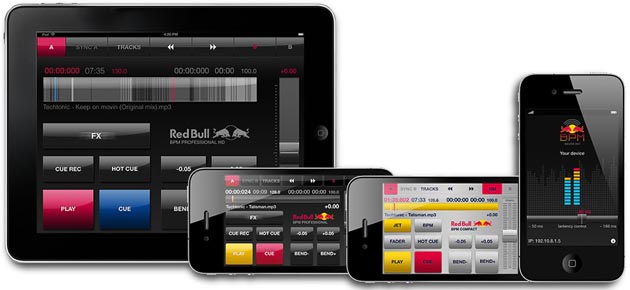 Never miss a beat
Using a phone as the base for a DJ set-up poses a unique problem but we've found an ingenious solution. An iPod touch, iPhone or iPad only has one stereo output, so how can you listen to the next track before you cue it up?
Red Bull BPM apps overcomes this limitation by offering a special audio SPLIT CABLE ADAPTER, also supporting the MasterOut app to provide two separate stereo outputs for monitoring and master for the PRO- and HD version.
Red Bull BPM SYNC software
Red Bull BPM apps sync with iTunes on your computer using the Red Bull BPM SYNC software. Just click on the relevant logo on the right.

Further Information on the other BPM versions