Digital 1 DJ/ PCDJ announces the release of PCDJ DEX for the MAC computer platform. PCDJ, which stands for personal computer disc jockey – is synonymous with the MP3 DJ revolution. "Releasing a MAC version of our popular DEX DJ software is very exciting for us", says Ryan Sherr, Digital 1 Audio's G.M.
"We have been offering award-winning windows based DJ Software for the past eleven years, with DEX leading the way. Now for our developers to bring the same level of performance and features to the growing MAC community is huge for us."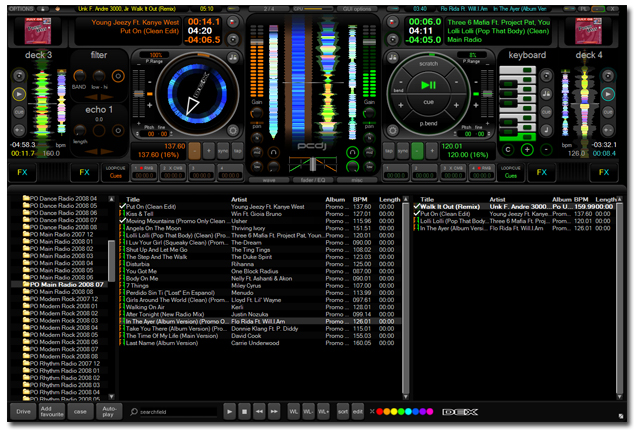 PCDJ DEX for MAC feature highlights:
PCDJ DEX for MAC supports the latest DJ controllers including: American Audio VMS4, the Numark MIXDECK, and Denon DN-HC4500. It also includes full XML MIDI mapping support for most popular controllers available today.
Upgraded audio engine in DEX for MAC has enhanced support of Apple's CORE Audio. Apple audiophiles will be pleased with how good music mixed with PCDJ DEX for MAC sounds.
DEX for MAC has a powerful track library, which enables fast and simple to use browsing, searching and sorting for a variety of audio files including; MP3, AIFF, OGG Vorbis, FLAC, WAV's, and unprotected AAC (MP4) files.
Brand new GUI skinning and Waveform display have been optimized to minimize system resources. DEX for MAC DJ software users will experience superior audio quality, responsiveness and minimal latency during playback.
PCDJ DEX for MAC is a DJ software solution built for the needs of both mobile and club DJ's. The new version has updated GUI skinning and waveform displays that free up additional system resources. It boasts frame-accurate BPM sync for seamless mixing, quantized looping, hot cueing and sampling. DEX for MAC has support for up to four virtual DJ players, with independent channel soundcard routing. Make the mix your own by using the multiple built-in FX (effects suite) or VST plug-ins. Start performing with it right away with your MacBook or MacBook Pro's Multi-Touch track pad or use any DJ MIDI controller on the market and you have an excellent hands-on music-mixing program that will help any DJ take their mixing to the next level.