As the migration of music, movies and gaming continues to move from traditional forms such as CD and DVD to downloaded files, more and more entertainment is being enjoyed at personal computers. Having the ability to listen to music and other media on your computer using the same type of professional-grade monitors used in recording studios around the world is now within reach! KRK's VXT4w Studio Monitors allow you hear every nuance and subtlety across the entire dynamic audio range—so that you can hear what you've been missing.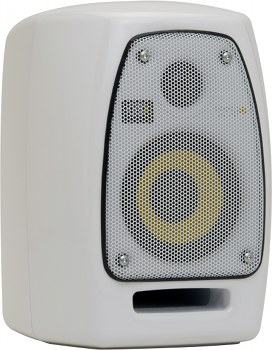 "This is the computer audio monitor for those who really care about their music," offered Tim Dorwart, CEO of The Stanton Group, parent company to KRK. "Those that watch movies or are computer-based gamers will be thrilled at the sound quality that these small monitors deliver. Listening to music at a computer is the equivalent of a recording engineer working at a console where the speakers are in close proximity, i.e. "near-field" monitoring. Being paired with a computer on a desk or workstation is the ideal application for KRK's VXT4w given its compact form factor. The monitor's high-headroom allows the user to experience sonic clarity across the entire audio spectrum—with an affordable price tag!"
Drawing upon KRK's broad legacy in recording studios, film production and radio broadcasting, , the VXT4w monitor—features a visually striking white enclosure that is equally functional, providing low resonance, improved structural integrity and extended low-end, and slotted bass ports for reduced port turbulence. Plus there is purpose behind its sleek curvature that provides excellent imaging characteristics and a wider sweet spot. The VXT4w monitor achieves a new level of precision, accuracy and clarity.
The domed tweeter (comprised of true silk for fast transient response) and the woofer design (with its light and stiff Kevlar cone that provides low distortion and extended low-end) both have vented formers to remove heat and reduce the effects of power compression, enabling these monitors to maintain their sonic signature after hours of continuous use.
With uncompromising attention to detail that includes auto power-off, tamper resistant switch covers, integrated wall mount support and a computer stereo/mini connection cable, the VXT4w is an outstanding choice for a broad range of listening and monitoring applications. The VXT4w is available exclusively at select Best Buy stores as well as BestBuy.com
– 1″ Silk Dome Neodymium Tweeter
– 4″ Woven Kevlar Woofer
– 45 Watt Bi-amplified Design with Active Crossover
– Curved Front Panel for Enhanced Imaging
– Limiter with Defeat (and front panel indicator)
– Ground Lift Switch
– Auto Mute Feature Reduces Power Use When No Signal Is Detected
– Peak SPL: 114dB
– Frequency Response: 59Hz – 22kHz +/- 2dB
– Protective Switch Covers
More info on: www.krksys.com