Alesis announces the SRP100 headphones. Designed for critical studio monitoring tasks, the SRP100's combine essential studio features with sound quality that rivals boutique headphones costing several times more. Tuned for clarity and dynamics, the SRP100 headphones feature 40mm transducers that provide authentic audio reproduction across the entire range of hearing. With its non-fatiguing sound, the SRP100's reproduce complex layers of audio with ease ideal for mixing and critical listening for long periods of time.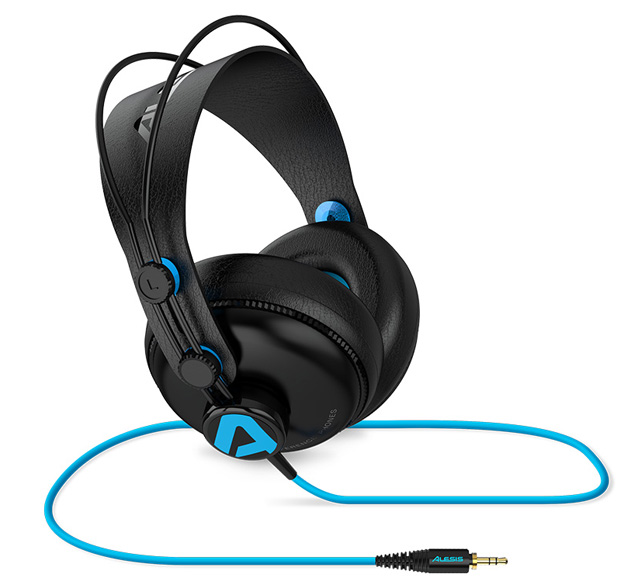 Alesis SRP100
The SRP100 headphones feature sealed earcups that provide aggressive isolation from the ambient environment, letting the listener hear subtle nuances with ease. Overstuffed ear pads prevent loud headphone mixes from leaking into adjacent microphones while providing longterm comfort for marathon recording sessions. An adjustable headband delivers a customized, no-slip fit when tracking wandering guitarists and aggressive drummers.
Highlights
• Rich, detailed acoustics for studio monitoring, editing or general playback
• Closed-back, isolating ear cups prevent sound from leaking in or out
• Around-the-ear pads provide outstanding comfort for extended recording sessions
• Optimized for use with audio interfaces, mixers, computers and mobile devices
• Adjustable, flexible headband for secure use during tracking sessions
• Rugged, lightweight design withstands the rigors of daily use
• Frequency response: 10 Hz – 30,000 Hz
• Cable length: 2 meters (6 feet)
• Impedance – 32 Ohms
• 3.5mm (1/8-inch) stereo mini-plug
• 6.3mm (1/4-inch) adapter included
"Headphones are essential to modern music production and can be the difference between a productive session and a creative bottleneck," said Nate Late, Alesis Product Manager. "In the tradition of Alesis innovation, we are bringing pro-grade sound and build-quality to anyone with an interest in creating music."
Alesis SRP100 headphones will be available in Summer 2014 with a $49.99 USD street price. Alesis will unveil the SRP100's at Musikmesse, Hall 5.1, Booth B45, March 12-15 in Frankfurt, Germany. For more information, visit: alesis.com/messe2014.