The worldwide shipping of the Virus Classic and the Virus PowerCore has begun. Expect both new products to hit the stores by the beginning of May.
With Virus PowerCore your native studio software will be on overdrive! Based on the award winning Virus Engine this plug-in puts more sonic ammunition at your disposal than any other PowerCore compatible synthesizer available. With its 16 voices and three oscillators, two parallel multimode filters and extensive modulation matrix, the Virus PowerCore is more than just another virtual analogue synth. Just the effects section itself would justify this plug-in to be called a multi-effect processor. Virus PowerCore can be used as a VST Instrument for Windows or MacOS X as well as an Audio Unit. The actual synth engine runs on one of the DSPs of the TC PowerCore and therefore doesn't put any strain on your host CPU.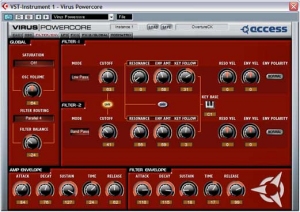 The Virus Classic, a legend in it's own time. This red-hot synth advances the Virus Classic Line to the full specs of the award winning Virus b, packed with power, polyphony, fx, output and of course, knobs!
Optimized manufacturing allows us to deliver the Virus Classic with an extremely competitive price tag. The heart of the reborn Virus is a Virus b Desktop and it comes with a couple of welcome additions. The mahogany side panels can be exchanged for the included 19″ rack mounts and the user manual is redesigned and bilingual.
The screaming red color scheme was adopted from the Virus Classic Line you know from the Virus rack Classic. In addition the factory presets have been revamped and come as a hand optimized best of collection chosen from the extensive archive of Virus sounds available.