We're back from the Messe, and after a good night of sleep we are ready to give you a general roundup of what we saw at the MusikMesse 2004. In our overview we will feature the most innovative and cool product shown at the Messe for each category.
One thing that we noticed was a number of missing manufacturers. No Access (they are German!) and no Novation on the Messe! We do hope to see them next year. Maybe this is because the lack of big news, but as far as Access is concerned, we missed their Virus Classic. Big news was another thing that was missing on the Messe. Most of the news was news for Europe, as the news was already there at the Namm in January. But, despite the fact that there were no real biggies around, we did find a lot of real cool stuff going on!
Synthesizers
New synthesizers on the show were limited, but we found the Micron at the Alesis booth (only after they resolved issues at customs, is there something really secret with this synth that it requires specific papers? Hmmm!:)). Its looks are definitaly cool, and its sounds are impressive. Still, our favourite new synthesizer at the Messe was the Kurzweil VA1. Still in prototype stage, it already shows off bigtime with massive sounds and soundscaping features, it has so many buttons and dials you'd wish you had more hands, the user interface looks like it's going to be a synth you really want to have in your own setup!
Synth winner: Kurzweil VA1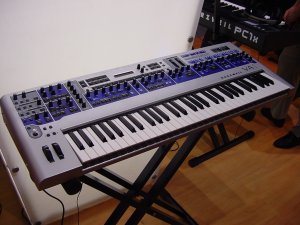 Studio/Pro Audio
Plenty of mixers, effects processors and sound engineering tools were available. Among the coolest things we found were the new dbx 162sl compressor, featuring real slick design and VU-indicators with white led background. It's an anniversary product, that should put the best of 33 years of dbx compression in this device. Promising! What we thought was good stuff for the studio was the new line-up of mixers from Mackie: the Mackie Onyx. This analog mixer can be expanded with a Firewire board, which makes the mixer act like a multichannel audio interface by sending multiple audiostreams to your computer for further processing. We think this is a real usable crossover to support the ongoing digital trend from the analog mixing world, and we like the way Mackie has pulled it off!
Studio/Pro Audio winner: Mackie Onyx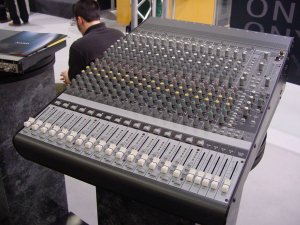 MIDI
A trend that has been going on for a while is still producing fun new MIDI controller gadgets. Ehm, did I say gadgets? I mean: usable devices!:) Behringer has a nice lineup of MIDI controllers with motorized sliders. But the thing is, when you look at the pricetags on these controllers, they are a lot less cool. Another MIDI controller is the retro looking Korg Legacy controller. Shaped like an MS-20, with plasticky small-size keys and a signal routing patch panel, it is a controller for the Korg Legacy softsynths and, as it is producing MIDI data, it can be used for more. This Korg Legacy is just cool!
MIDI winner: Korg Legacy controller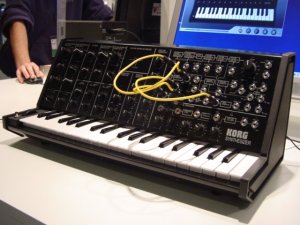 Soundcards
When exciting things happen with soundcards, we will let you know. Just kidding 😉 But the fact remains that most of the news was 'evolutionary' instead of 'revolutionary'. Good news is that Creamware has succesfully reformed their company and they are getting their Scope platform back on track! But they have tough competition from another company: TCElectronics, who are taking their Powercore platform to the next level by partnering with Access and Novation to bring their softsynths to the 'core. More revolutionary soundcard news came from Emu, who introduced the Emulator-X as a soundcard with a lot of new and usable features to get the original Emulator feeling in your computer. Very nice!
Soundcard winner: Emu Emulator-X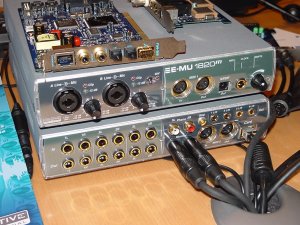 Software
Here we can be pretty silent when it comes to real news. The Messe showed a big update fest for most software. And whoever didn't have an update, showed the result of copy/pasting ideas from other products and how they integrate in their software. There is a trend that is producing results in softwareland though. After the virtual analog and modular softsynth wave, more and more software is focussing on the more complex audio synthesis of vocal elements. TCElectronics, Yamaha and Zero-G (Vocaloid), Celemony (Melodyne), to name but a few. We liked Celemony Melodyne a lot. It doesn't do voice synthesis, but it gives very easy access and immense flexibility to using vocal tracks in your arrangement. Thumbs up 😉
Software winner: Celemony Melodyne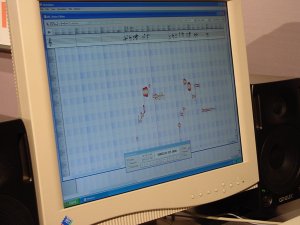 DJ
A product that everybody is eager to get their hands on was at the Messe: the Technics SL DZ 1200. We played with it and we loved it! It looks magnificent and controls very nicely. Featurewise it isn't packed (but it has everything you need and a little more). Then again, if you want features on your decks, Technics never has been the first place to look. But as with other Technics products, we can't suppress the 'I want it!'-feeling… From another booth we found another kind of news that we really liked a lot. The Spanish company Ecler announced their Nuo5 mixer. Ok, 4 channel mixer with effects. But what does that USB port to? Limit the output of the effects section. Could the effects be that raw and untuned that you can do the finetuning yourself? Cool! We like! Although we hope the factory presets will protect your speakers enough already… But there's more on the Nuo5 mixer that impressed us a lot: MIDI output. Wow. BPM to MIDI Clock. This opens up a whole new world for the performing DJ! Good thinking Ecler, and we really appreciate it!
DJ winner: Ecler Nuo5