D&M Professional have announced the release of two Denon
DJ Performance Mixers, which will make their debut at London¹s PLASA Show in
September.
Both the DN-X300 and DN-X100 are fully-featured, and built with the
ruggedness that would be expected of two-channel Battle mixers bearing the
famous Denon marque.
Each has been carefully designed for compatibility with the company¹s
recently-launched premium CD/MP3 players ‹ the DN-X100 matched with the
DN-S1000, and on a slightly larger footprint, the DN-X300 with the DN-S3000.
In fact many of the features and components found on Denon¹s more expensive
mixers (such as the X1500) can be found on these models.
The X300, for instance, boasts the more superior Penny & Giles 45mm
professional crossfader, offering exceptional performance, environmental
shielding, smooth conductive plastic tracks and precious-metal multi-finger
contacts, with Cross Fader & Channel Fader Contour Adjustment (and ŒHamster¹
Reverse Fader control). Both Cross Fader and Channel Fader Start functions
are compatible with Denon¹s range of DJ CD players (S5000, S3000 and S1000).
Other features common to both models include Programme Channel Reverse
function and 3-band Knob EQ (the X300 also including a 3-way Kill switch).
Additionally, the X300 features Stereo Send & Return terminals for external
effects processor.
Other features to look out for include: Gain Control (all input channel
levels can be pre-adjusted to match the output level meter, ensuring a
smooth transition between fades); Mic input with level control, EQ and
Talkover switch; Mic Effectloop (Send/Return) terminal on the X300, for
external effects processor; Headphone output selector with powerful volume,
and 8-position, user-adjustable Transform switch ‹ while the X300 includes
Booth Output and 6-Way Cueing System. Both models contain a wealth of I/O
terminals.
DN-X100: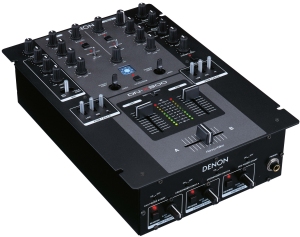 DN-X300: