Behringer announced the shipping of the MS16 active monitor speakers and the DEQ1024, a digital stereo 31-Band 24-Bit/96 kHz equalizer, feedback destroyer and dynamics processor.
The MS16 is a compact 2-way stereo speaker system for home studio or multimedia applications and instrument or vocal monitoring.


Two high-power amplifiers drive the 4'' woofers and the high-resolution tweeters. The front-mounted volume control and individual bass and treble controls make accurate sound adjustments a breeze.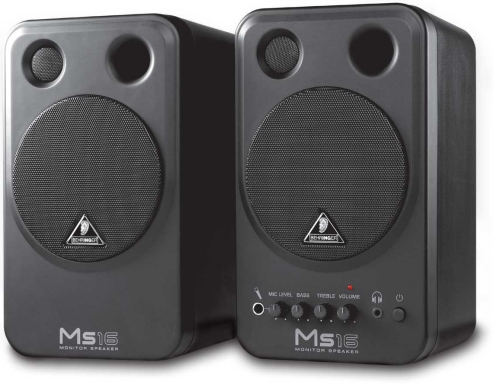 The retail price of the MS16 will be € 75 (price per pair) incl. VAT.
The DEQ1024 is an ultra high-resolution digital stereo 31-band equalizer feedback destroyer. It combines unmatched digital performance with straightforward and intuitive analog-like operation.
The revolutionary FBQ Feedback Detection System instantly detects critical feedback frequencies and can also be used as an audio analyzer, making the DEQ1024 a must-have for every professional touring rack.
Switching on the automatic Feedback Destroyer removes feedback within a fraction of a second. A state-of-the-art 24/48-bit DSP and ultra high-resolution 24-bit/96 kHz A/D and D/A converters deliver the ultimate in sonic resolution.

The retail price of the DEQ1024 will be € 310 incl. VAT.