Native Instruments presented the new Absynth 3 at the Remix Hotel convention, being held in San Francisco from the 28 till the 30 of October. ABSYNTH 3 has been greatly enhanced, surround sound features and a live audio input enabling ABSYNTH to be used as an extraordinary effect unit are just a taste of the extra power in store.
Sublime, Seductive Sounds:
Now in its third generation, the award-winning synthesizer continues to build on its untouchable reputation. From futuristic synths to rhythmic mayhem, vintage sounds to ambient layers and completely unique, alien soundscapes – ABSYNTH 3 seduces with sublime sounds. The possibilities offered by its semi-modular architecture and powerful, unique features stretch well beyond the boundaries of existing synthesizers, creating an extremely diverse spectrum of amazing sounds.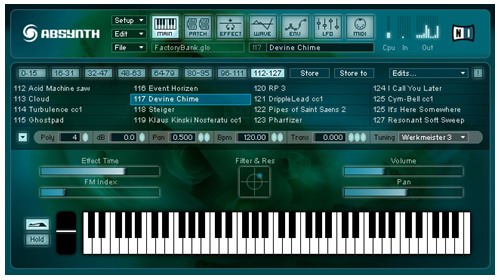 ABSYNTH 3: The Main Window – Synthesis and Sampling:

ABSYNTH 3 leads the way for future software synthesizers. Combining FM and subtractive synthesis, ring modulation, a live stereo input, classic and granular sampling with the most advanced envelope control ever implemented, this unrivalled synthesizer will take you on the most outrageous sonic adventures. The innovative user-interface merges sophistication with simplicity, providing an exceptional sound design experience.


Sketch, Sculpt and Shape:

Generate constantly moving and morphing textures with the flexible 68-breakpoint envelopes. Model individual waveforms, draw in their harmonics or use the real-time waveform fractalization to create lively and individual sounds. Intelligent displays and envelope management make sure you always know exactly what is happening. Spatial surround sound features, a host of additional effects more than 1000 presets guarantee maximum creative scope.


Stage and Studio:

ABSYNTH 3 is as much at home in the studio as it is on stage. All the envelopes can be tempo-synced or managed remotely via MIDI, enabling dynamic manipulation of parameters during performances. With the live stereo input you can use ABSYNTH 3 as an extraordinary effect unit. Route other instruments through it, twisting and contorting your sounds into unimaginable sonic realities. Its compatibility with every popular plug-in format ensures seamless integration into every studio setup.


ABSYNTH 3 is due to be released in December 2004. As soon as we have more information we will add the Absynth 3 to our product database.