After the release of the Acid 5.0 Musicstudio version, earlier this month, Sony announced today that ACID Pro 5 software, the latest upgrade to its award-winning, professional loop-based music creation tool, will be available for purchase on Nov. 8. 2004.


Enhancements include two new patent-pending technologies: The Media Manager is a powerful new technology for browsing and tagging media assets that greatly enhances the user's ability to track, label and store media files including loops, video and stills. Additionally, the unique Groove Mapping and Groove Cloning technologies provide enhanced ways for users to sonically interact with their loops and samples collection.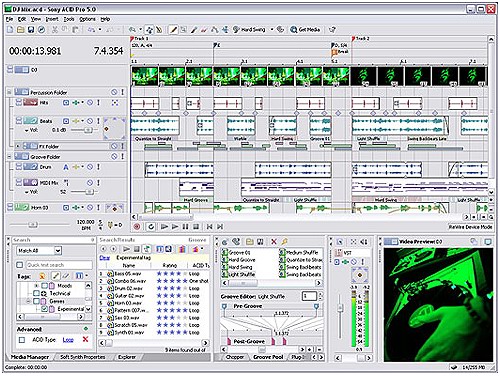 New features in ACID Pro 5 software include:

– ACID Media Manager System – Patent-pending, new media management technology provides control over project and archived assets, including customizable searches and loop tagging.

– Groove Quantization – Patent-pending technologies incorporate sophisticated Groove Mapping and Groove Cloning features for morphing existing loops and samples into new fresh, new sounds.

– VST Plug-In Hosting – Expanded ability to apply VST plug-ins at the track or project level.

– ReWire Device Support – ACID Pro 5 includes ReWire "synth" support so users can incorporate ACID Pro 5 software as a plug-in or instrument within other applications that support ReWire mixer technology.
ACID Pro 5 software will be available in November with a suggested retail price of $499.95. Users of previous versions of ACID Pro software can purchase an upgrade to version 5 for $149.95. ACID Music Studio users may upgrade to ACID Pro 5 software for $299.95. More information on ACID Pro 5 can be found at www.sony.com/mediasoftware.


Check out our Acid Pro 5.0 productpage (link below) for a complete list of new features and additional extras for Acid Pro 5.0.