It gives Leapfrog great pleasure to announce that Rephrase is now released! You can now order your copy of Rephrase directly from their website. There is also a free 14-day demo version available to try. They've been working very hard over the last months, and they hope that you will like the result!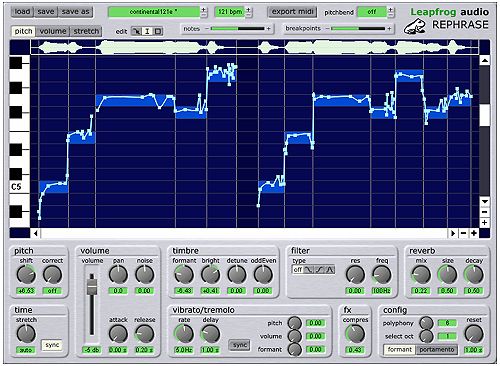 Rephrase is a powerful phrase editing virtual instrument. No longer do you have to think of audio tracks as fixed blocks. Using Rephrase your audio tracks become instruments in their own right. Edit them directly as MIDI in your host application, or even play them live via MIDI.
Full Version Benefits:


Purchasing the full version of Rephrase will provide you with:

# No Restrictions – full, restriction free usage.

# Support via email and our internet forum (coming soon).

# Product Updates – we are happy to listen to your ideas and are always looking for ways to improve our software. Minor version updates are free for all Rephrase owners.

# Discounts – as a Leapfrog Audio customer you are entitled to selected discounts on major version updates and future products.

More info on our productpage (link below) or visit www.leapfrogaudio.com