Flexible high-quality sound solutions were, until now, in short supply. Owners of laptop computers, in particular, are tired of having their ears assaulted by bad sound. Whether it is for your next multimedia presentation, the most recent film highlights on DVD, MP3 songs, or a thrilling soundstage for your high-end games: with the Aureon 5.1 USB MK II you can enjoy first-class sound over 6 channels. It doesn't matter when or where – it is truly mobile. On your home PC or on the go. No complicate installation or configuration required-no special drivers or separate power supply.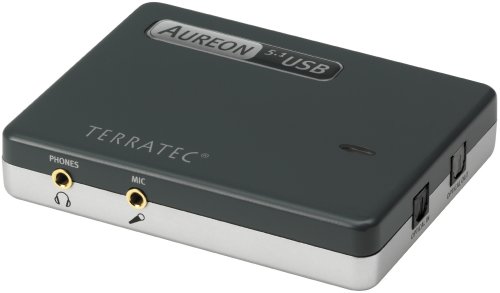 A few highlights: Genuine surround sound over 5.1 channels, gold-plated connections, digital inputs/outputs as well as a microphone input and headphones output. This little sound machine also offers everything else you expect from a good audio card.




For pure listening pleasure, particularly for your DVD software, current standards such as Dolby Digital, AC3, DTS and Dolby Pro-Logic II are supported. Additionally, the Aureon 5.1 USB MK II has a headphone jack. It supports Sensaura 3D and is thereby EAX1.0 and EAX2.0 compatible.




And: In the Aureon 5.1. USB MK II, it is not only the hardware that contributes to its refined tones. The DVD player software is the perfect software for converting your PC into a genuine home theater and experiencing real 3D sound.