M-Audio, a leading provider of creative tools for computer-centric musicians, is proud to announce the distribution of three new software titles—Spectron, Ozone 3 and Trash. All three titles were developed by partner iZotope, Inc. and are available exclusively through M-Audio.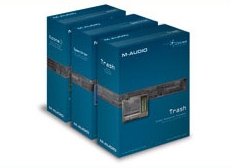 Spectron—64-bit Spectral Domain Effects Processing

Spectron is a complete effects processing software package. Of course, users will find standard effects including delay, chorus, filter, flange, panning and morphing—and these are really just recognizable points in ase a of unique effects. That's because Spectron uses spectral domain processing to provide control over selective frequency bands for a unique and nearly limitless sonic palette. Delay effects, for example, have the added ability to selectively delay, feedback and modulate specific ranges of frequencies. Spectron's elegant, easy-to-navigate interface allows users to quickly access the power of the software's unique sound-shaping transformation possibilities. Internal 64-bit processing and support of up to 192kHz audio delivers an extremely pristine signal.



Ozone 3—64-bit Integrated Mastering System with Analog Modeling

iZotope's Ozone 3 combines analog modeling with 64-bit digital precision to deliver a complete integrated suite of world-class mastering processors. Ozone 3 isn't a collection of plug-ins—it's a single powerful interface that combines all the required mastering tools in one system. This makes it easier to use and to understand the mix. Furthermore, it sounds more transparent because all processing is done via 64-bit DSP until final output. It's technically impossible to get this sound quality and resolution by chaining separate plug-ins together.



Ozone 3's toolset includes an 8-band paragraphic equalizer with linear phase, tube-modeled and matching modes; mastering reverb with plate and modeled algorithms; intelligent loudness maximizer with brick-wall peak limiter and multiple detection modes; real-time analysis; and features MBIT+ dithering for psychoacoustically optimal word length reduction. Ozone 3 provides extensive metering for correlation, phase, dynamics, gain reduction, dithering and more. It also features multi-band dynamics, harmonic exciter and frequency-dependent stereo imaging. Tube modeled equalizers and linear phase filters deliver a perfect balance between warmth and fidelity.
Trash—Complete 64-bit Distortion Processor

Trash is an all-purpose distortion plug-in capable of selectively delivering everything from warmth to grunge. Trash serves as a realistic guitar rig simulator, including rectified overdrive and a stunning array of 85 cabinet models ranging from vintage to experimental—plus three microphone models. Trash offers multi-band, dual-stage distortion including 48 algorithms; 36 filter types spanning analog, resonant, clean and saturated; and multi-band compression and gating. There's also analog modeling for added warmth, plus extensive delay modeling including analog, lo-fi and tape-style. Users can chain pairs of distortions together and apply distortion independently to individual frequency bands.



Standard Features

All three products share a variety of common features including 64-bit processing, 192kHz audio, CPU efficiency, unlimited undo history, automation and stability. Ozone, Spectron and Trash offer broad host support including the following (or later revisions): Live 4, Cubase SX 1.0.6(PC/Mac), Nuendo 1.61, Logic 6.4.1, ACID 4.0, SONAR 1.0, Pro Tools LE/TDM 6.1(PC/Mac) and other hosts supporting Audio Unit, DirectX, MAS or VST. Minimum system requirements are a PC with 600MHz processor running Windows 98se, ME, 2000, or XP, or a Mac G4 running OS X 10.2. All three products also ship with comprehensive libraries of professional presets and excellent documentation.



"In an arguably crowded market, M-Audio looks very carefully at how we strategically broaden our software line," says Adam Castillo, Marketing Director at M-Audio. "We're extremely enthusiastic about adding Ozone 3, Spectron and Trash to our family of products. These 64-bit processors have incredible fidelity and let you do things that you simply can't do with anything else."



"Our products have already enjoyed great response in the marketplace," says Mark Ethier, director of Business Development at iZotope, Inc. "We look forward to focusing on the development of new technology and are excited to offer our line of commercial plug-ins to a much wider market through distribution with M-Audio."



Spectron carries an MSRP of USD $129.99 MSRP. Ozone 3 is USD $249.99 MSRP.Trash sells for USD $199.99 MSRP. All three products are currently shipping for OS X and Windows.