Cakewalk, developer of the leading music and sound software for Windows, today unveiled the Project5 Version 2 performance workstation. The next-generation of the Project5 open studio environment features a streamlined design, optimized for immediacy, that provides everything you need to take your music from inspiration to studio and stage. Project5 Version 2 has a $429 MSRP U.S. and is scheduled for release in April 2005. Customers that purchase full retail packages of Project5 Version 1 or 1.5 after February 1, 2005 will receive a free upgrade to Project5 Version 2 directly from Cakewalk.


Project5 soft synth workstation was introduced in 2003 to address the needs of musicians looking for new, cutting edge environments to create, compose, and perform with live soft synths. Project5 version 1 delivered an innovative, open synth host that combined the best of live input MIDI recording, pattern based sequencing, and ACID loop support, along with great sounding synths and samplers.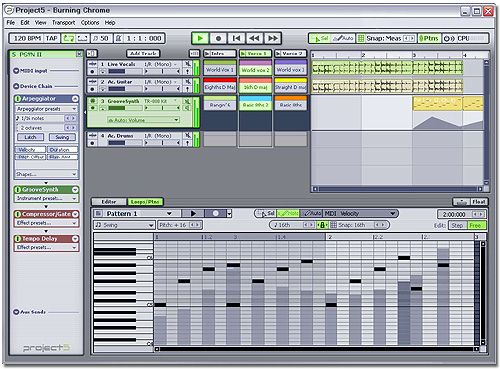 Project5 Version 2 presents the next stage of Project5's evolution offering the following key enhancements:

* Streamlined user interface

* High performance engine

* Integrated multitrack audio

* Multipad pattern triggering

* Loop reconstruction

* Dynamic arpeggiator

* Multimode sampling synthesizer

* PSYN II subtractive synthesizer

* Much more



– New UI

– High Performance Engine—With Version 2

– Integrated Multitrack Audio

– Multipad Groove Trigger

– Loop Reconstruction

– Dynamic Arpeggiator

– Multi-mode Sampling Synthesizer

– PSYN II synth

Additional enhancements include: freeze, tap tempo, track inspector view, in-track automation, drag and drop patterns between plug-ins and Project5, more.
Pricing and Availability:

Project5 Version 2 has a manufacturer's suggested retail price (MSRP) of $429 U.S. and will be available April 2005. For more information, visit www.cakewalk.com, or check out our Project5 V2 product page (link below).