At Winter NAMM 2005, Spectrasonics is releasing a new 1.2 version of Stylus RMX. The new version of the award-winning groove software adds over a dozen new features including three brand new, professional quality effect modules, as well as enhanced compatibility with major host applications. The update is now available as a free download for all registered users from the Spectrasonics website in all supported plug-in platforms.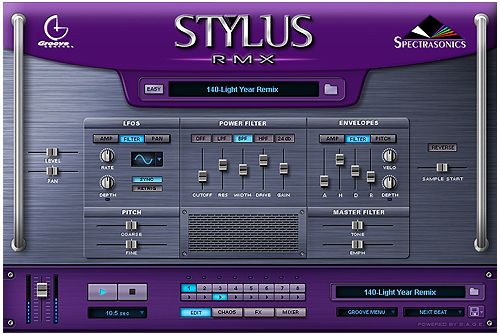 New Stylus RMX Version 1.2 Features:

• Three Brand New Effect Modules:

– Radio Delay

– PRO-Verb

– Spring Verb

• New Effect preset library of over 450 presets and rack presets

• Single Effects Patch Management

• Effect Rack Patch Management

• "Next Bar" trigger mode

• Multiple Outputs in Apple Logic 7

• New MIDI Learn and Automation parameters

• Pro Tools parameter automation

• "MIDI CC" footer value display option shows MIDI CC events received

• Multiple Outputs in Pro Tools v6.7

• Various additional enhancements and improved performance
New RMX Community Area – In addition to the new 1.2 version of Stylus RMX, Spectrasonics has announced the launch of a new "Community Area" on its website at www.spectrasonics.net/rmxcommunity/ for registered Stylus RMX users. The new web area has many useful downloads and will be updated regularly with new information. The Community Area has links to the latest software updates, updated and new video tutorials, a FAQ section combining the answers to many of the most asked tech questions, "Index for the Video Tutorials" PDF documents in English, French, German, Spanish, Italian and Japanese, and Host Set Up Tutorial PDF files explaining how to use Stylus RMX multitimbrally with 8-MIDI channels and "drag & drop" MIDI file procedures for various host software including Ableton Live™, Digidesign Pro Tools, and Apple Logic. The web area also has a "Multi patches" download for Groove Control™ library users.