IK Multimedia unveils Studiophonik™, the first studio instrument workstation designed to bring the realism and control of the sound of a band in a studio. And IK Multimedia is proud to announce Miroslav™ Philharmonik™, a powerful integrated Orchestral Workstation combining the legendary Miroslav™ Orchestral and Choir sample collection masterpieces with a dedicated plug-in instrument specifically tailored toward classical sounds and arrangements. Two new products which have been unveiled at Winter NAMM 2005.
With a focus mainly on guitars, bass and drums with the addition of some choice pianos, organs and a full horn section sampled by world class sound developer Sonic Reality, Studiophonik™ offers more variety of different key band instruments than any other sound module. This, combined with IK's advanced sample playback engine and fully integrated rack of modeled tube compressors, limiters, analog EQ and other high quality console and outboard effects puts you in the producer's seat with the ultimate tools for recreating a virtual band in your sequencer.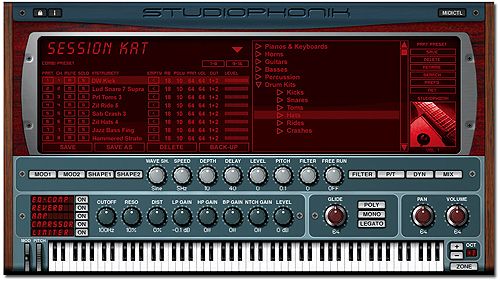 Miroslav™ Philharmonik™ is a top-class instrument plug-in which offers 16 multi-timbral and layerable parts, 3 synth engines including STRETCH™, built-in DSP effects, 256 note polyphony, and much more. Expressive performance articulations. Strings with Vibrato, No Vibrato, Mute, Detache', Pizzicato, Staccato, Sul Ponte, Sul Ponte Tremolo, with various speeds and multiple velocities for the ultimate expression. Woodwind and Brass Ensembles feature the same attention to detail as the strings with both solos and ensembles. The incredible choir section includes sustained vowels in multiple dynamics, plus, Brumendo, Espressivo and Staccato including oohs, ahhs, mms and more.


Works as a plug-in for every major platform on Mac and PC, allowing users to integrate this powerful classical sound source into the sequencing environment of their choice, including Protools®, Cubase™, Logic™, Digital Performer™, Sonar™ and more. Miroslav™ Philharmonik™ can be used to expand your SampleTank® 2 sound system. Philharmonik™ sounds are also compatible with the powerful SampleTank® 2 sample workstation environment.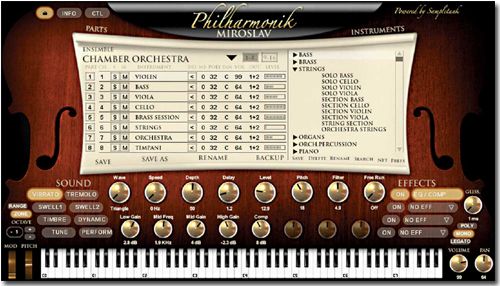 – Studiophonik™ is expected to be released in the spring of 2005. MSRP will be $/Euro 399 and will be available exclusively from IK Multimedia and its distributor and dealer network worldwide.

– Miroslav™ Philharmonik™ is expected to be released within the summer of 2005. MSRP will be $/€ 499 and will be available exclusively from IK Multimedia and its distributors and dealers worldwide.


For more information please visit: www.studiophonik.com and www.ikmultimedia.com, or check out our product pages for extra information (links below).