Cycling '74, a software company based in San Francisco, today announced Mode for Windows. This popular package of native audio processing plug-ins will be available on Windows XP for host applications supporting the VST and RTAS formats. The package features three instruments and two effects units that integrate functions and performance controls typically found in rack-mount and workstation hardware. An additional 18 plug-in "submodules" extend the package with creative effects, parameter modulators and CPU-saving mini-instruments.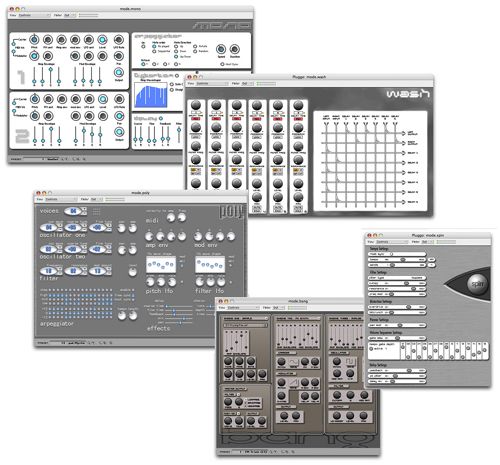 The MODE collection's featured plug-ins include:

* BANG: A single-voice percussion module that combines sample playback, FM synthesis, and analog modeling drum synthesis for sounds ranging from simple emulation to outrageous percussive hybrids.

* MONO: A monophonic synthesizer that combines the ease of use and warm filter effects of an analog synthesizer with the control and clarity of an FM engine, for an instrument that is equally at home in the studio or on stage.

* POLY: A versatile polyphonic synthesizer loosely based on classic DCO synths. POLY uses waveforms sampled from some of the most popular vintage digital and analog instruments and features a unique polyphonic arpeggiator.

* SPIN: A rhythm-based effects processor that features a state-variable filter, panning effects, rhythmic gating, delay, distortion and bit-reduction for sounds that range from subtle modification to extreme abuse.

* WASH: A unique new effects processor built around an interconnected network of 6 fully-controllable recirculating delay lines. More than a mere effect, WASH is an instrument in its own rightÑcapable of anything from simple multi-tap delay textures to hour-long walls of morphing feedback.



The additional 18 "submodule" plug-ins take the effects, performance controls and instrument sections of the five featured devices and provide them as stand-alone plug-ins. This allows for mix-and-match sound creation, modulation, filtering and effects similar to modular synthesis environments. Price and Availability: MODE has a suggested retail price of $199 and will be available for purchase in Q1 2005 from Cycling '74 (www.cycling74.com) or its retail dealers.