With the release of the Gemini CDT-05, that dream has now become a reality, with the ability to play both vinyl, as well as to play CDs with the hands-on control of a full size direct drive platter. The CDT-05's sturdy aluminum platter is driven by a CPU-controlled high-torque direct drive motor, perfectly suited towards vinyl playback or CD manipulation.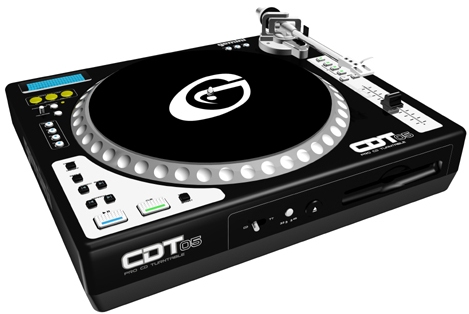 In both analog (vinyl) and digital (CD) modes, DJs are provided with a variable pitch control, with selectable ranges of 4, 8, 16, or 50 percent, along with pitch bend function as well as master tempo. Additionally, 3 DSP effects (Filter, Zoom, and Echo) with variable parameter and a forward/reverse switch can be accessed in either mode.



During CD playback, the CDT-05 affords 3 hot starts, frame accurate cue, and seamless loop, for ultimate flexibility in the digital domain. The motor can also be disengaged, for DJs that prefer CD decks with a passive, non-motor driven platter.



Vinyl DJs will appreciate the removable, virtually unskippable straight tonearm system (sold separately) as well as the versatility of having an all-in-one unit to move forward with the digital revolution, while preserving the legacy of vinyl.