The critically acclaimed, award winning MiniMoogÒ Voyager is now available in a new 19" Rack Mount Edition. The Rack Mount Edition (RME) is five units high and, with optional wood sides, doubles as a tabletop synth. The stunning backlit front panel includes all of the front panel controls of the Voyager (with the exception of the touch surface). Presets from the Voyager are useable in the Rack Mount Edition. Multiple RMEs can be chained together with MIDI to achieve polyphony.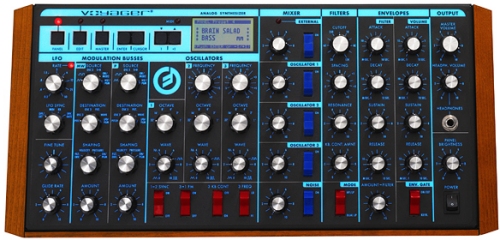 The RME's rear panel delivers all of the same extensive input/output resources that are available on the Voyager via its MIDI IN, THRU, and OUT connectors, four audio input and output jacks, and two accessory port connectors. The output accessory port connects the RME's 21 control and gate outputs to the VX-351 Voyager CV Output Expander, while the input accessory port connects the 18 control and gate inputs to the VX-352 Voyager CV Input Expander (available soon).



The RME features audio outputs that are switchable between -2dBm unbalanced (musical instrument) and +4dBm balanced 600W (professional audio) configurations.



Bob Moog states, "The Rack Mount Edition is designed for current Voyager owners interested in expanding their setup, giggers who desire portability, and anyone who is looking for an exceptional value in a state-of-the-art analog synthesizer." Pricing for the Rack Mount Edition has yet to be determined; Moog Music expects to be shipping the new product in March.