Celemony Software GmbH is now shipping Version 2.6 of its unique audio software 'Melodyne'. The emphasis is upon numerous improvements in the handling of keys and scales, enhanced compatibility with Apple Logic 7 and DP4.5 and better pitch recognition. Registered Melodyne users can now download the new update free of charge from www.celemony.com
Melodyne 2.6 is mainly notable for the provision of far more powerful functions for the handling of keys and scales as well as the editing of diatonic and chromatic notes — with far more musical results from both correction and transposition operations. Version 2.6 distinguishes between notes belonging to the current key or mode and notes foreign to it (such as chromatic passing notes) so that the musical content of the phrase is not altered when the melody is transposed or the mode changed. This also helps the program to achieve still better results when generating two- or three-part vocal harmonies.
The handling of trills and other ornaments has also been optimized and the ability to group notes added to the function set. These measures make the editing of phrases considerably more intuitive. The Melodyne Bridge, which facilitates the integration of Melodyne into sequencing applications, now supports the current versions of Apple Logic 7 and MotU Digital Performer 4.5.
The program's ability to analyse and play back rough-sounding audio material has also been improved considerably. The new update also contains a host of detailed enhancements — many of them suggested by our users.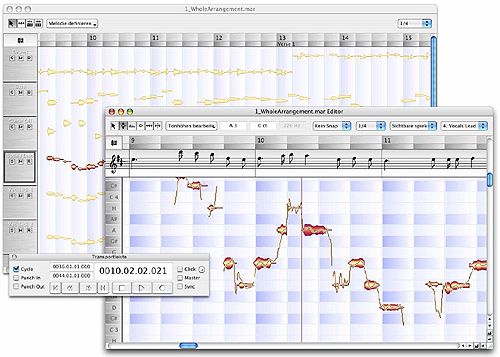 With this update, the recommended retail prices have also been adjusted. The large Melodyne Studio Edition now costs $599 US (599 euro) and the smaller Cre8 version $369 US (319 euro). "This is very much a musical update," according to Celemony mastermind Peter Neubäcker, "since Melodyne better understands now the harmonic context of melodies and is able to react accordingly. This makes the handling of tonalities and modes as well as vocal harmonies and transposition considerably simpler and achieves more musical results."
The update to Version 2.6 for Windows and Mac is free for registered users of the Studio Edition and Cre8 from version 2.0 upwards and is available for immediate download from www.celemony.com.