Q-Clone is a revolutionary new product utilizing unique (patent-pending) technology that lets you use your outboard hardware equalizer in a completely new way. By capturing the sound of your own gear, Q-Clone allows you to use that sound freely throughout your session, adjusting the sound of each track just as you would if you had dozens of that same hardware equalizer.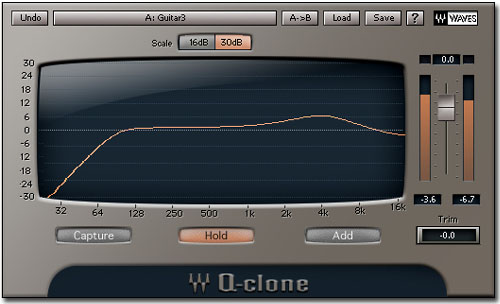 Let's be clear: we're not talking about mousing around on a plug-in "simulation" with "virtual" knobs. You're using YOUR gear, not a software version of it. Turn the knobs on your classic box—Q-Clone captures and holds the exact sound in real time.


Q-Clone has two components: Q-Capture, which is used to capture the sound of your hardware, and Q-Clone, which shows you the equalization curve of your hardware and provides other functions. Q-Capture constantly samples the hardware unit's sound, tracking every twist you make on your gear's knobs in real time. The calibration feature lets you tune Q-Capture precisely to your unit's headroom and dB range.
Q-Clone costs US$1000 and is available for Windows and MacOS X in VST, AU, DX, RTAS, MAS, AudioSuite and HTDM formats. Q-Clone is available separately and is not included in any bundle.


A demo version is available for download at www.waves.com, more info available on our Q-Clone product page (link below).