Mixing console giant Soundcraft has reintroduced the UREI name on a range of DJ Mixers designed for both the traditional House market and the Turntablist performance sector.



The UREI legend was born in the 1970's with the 1620, a rotary-based mixer for the House mixing sector, making its reputation for great sound and smooth control initially on the New York scene, at the heart of the control centre that was Larry Levan's DJ booth at The Paradise Garage.
First out of the new stable is an updated version, the limited edition UREI 1620LE. Tempting though it was to totally re-engineer this classic mixer, Soundcraft has remained loyal to the original circuits and traditional components that made the famous UREI sound, while engineering for enhanced reliability. Only slight modifications to the circuit layout have been made in order to further minimize noise with no detriment to the sound. With all the sonic qualities faithfully retained, users of the new mixer will also experience the reassuringly positive and authentic rotary feel of the 1620, while the panel layout remains as inspiring and intuitive today as it did in the 1970s. All this gives the DJ unrivalled control in the mix.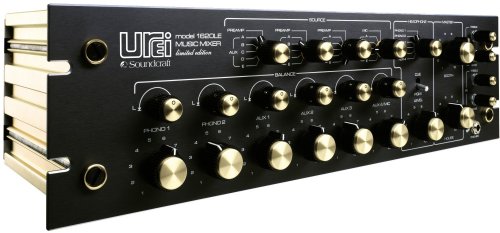 Features of the 1620LE include 6 input channels – 2 Phono, and 4 Aux matrix inputs, – 3 line and 1 Mic, available with optional Phono, Line or Mic plug in options – headphone monitoring of any input, Balanced House and Booth master output volume controls, and 2-band EQ on the master output.



The unit has been given gold-plated connectors on the rear for ultimate quality of connection.
For the performing DJ, the new 1601 and 1601S are two-channel DIGITAL mixers, and are perhaps the ultimate scratch mixers for tablists.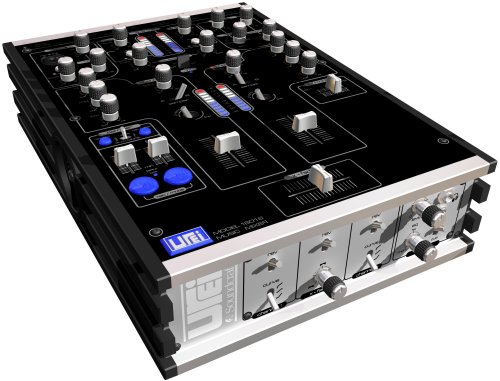 Designed with the Hip Hop DJ in mind with a clear battle area around the faders, the 1601 features selectable Line or Phono inputs and 3-band EQ on each channel, high-pass filters for removing turntable rumble or stage noise, an FX send & return loop with selectable signal feed locations and an independent mic/line input with 2-band EQ. Each input fader has selectable response curves, as does the cross-fader. The headphone outputs (both ¼" and mini-jack connectors are provided) have an EQ control that allows the DJ to tune the phones to his own ears. Two independent sets of dual 10-segment LED meters show the input and output levels. Outputs are on both balanced XLR and unbalanced RCA-Phono connectors.



A specially-designed EXCITER section has a variable frequency control, and a mix control to allow the excited programme to be added to the main mix.



The 1601 is powered by an integral universal voltage power supply.



The 1601S is a true multi genre mixer, expanding its use to cover House, Techno, Breaks, Drum and Bass, R&B and more. It is identical to the 1601, but but has the added feature of a high-performance 2-bank 32 beat 96kHz/24-bit auto looping sampler with 1-shot and reverse functions. The playback from either sample bank is assignable to channel 1 and/or channel 2. A BPM lock indicator shows that the BPM engine is ready to sample, and a footswitch connector allows control while the DJ's hands remain focussed on creating the mix.



To aid in field servicing, the input faders, cross fader, CF Monitor fader, sampler controls, input select switches and EQ pots on the 1601 Series are all user-replaceable.



Further mixers in the UREI Series are planned for 2005