KONTAKT 2 is the second generation of NI´s award-winning flagship sampler. With a powerful new sampling engine, comprehensive surround integration, the unique KONTAKT Script Processor (KSP), integrated convolution effects and unrivaled import capabilities, KONTAKT 2 is simply the most advanced sampler ever.


At the heart of KONTAKT 2 lies a powerful new sampling engine that offers virtually unlimited polyphony as well as 64-part multi-timbrality, allowing for the most complex arrangements even within a single instance of KONTAKT 2. Multiprocessor support delivers up to 100% performance increase on dual processors systems, while Altivec optimization gives a further performance boost on Macintosh computers equipped with G4 and G5 processors.


The new surround integration in KONTAKT 2 is the definitive answer to the increasing role of surround in all areas of professional audio production, with support for multi-channel formats ranging from 3.0 up to 16.0, including industry standards like 5.1 and 7.1. All of the 13 effects in KONTAKT 2 are also fully surround-enabled, including a highly capable surround panning module that allows for precise sound field placement as well as sophisticated creative panning effects. KONTAKT 2 also features an output browser that gives a convenient overview about channel routing and output levels, making work in surround as effortless as with traditional stereo setups.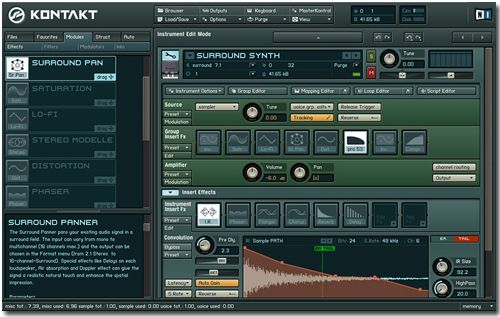 An especially powerful addition to the acclaimed sound shaping potential of KONTAKT is the new convolution effect unit that allows for ultra-realistic reverb effects, speaker and microphone simulation, and much more. A versatile library of high-quality impulse responses is included with KONTAKT 2.


Thanks to its new "Universal Import" capabilities, KONTAKT 2 is also by far the most compatible sampler on the market. It reads more than 30 different file and sample formats, now also including Acid,Akai S-5000/S-6000, AppleLoops, BATTERY 2, Emu EIV/EOS/ESi, Halion, Korg Triton, Kurzweil, MachFive, Reason NN-XT, REAKTOR, Roland S-5XXX/7XXX and SoundFont 2.


The user interface of KONTAKT 2 is also greatly enhanced, featuring a new "Multi Browser", a multi-channel-capable loop editor with improved loop slicing, an extended mapping editor with list view and sample replace function, an enhanced group editor, multi-effect-modules for easy effect combinations, and an on-screen-keyboard.


Additional new features in KONTAKT 2 include a "RAM Purge" function that can free up large amounts of memory by unloading individual samples not being used in a track, "instrument banks" that hold up to 128 different instruments which can be selected via MIDI program change, two new filter models that bring the total number of filters up to 19, a new master section with tempo and tuning controls as well as a metronome, and a host of
usability improvements including quick preset switching, unlimited undo/redo with undo history, and key commands.


KONTAKT 2 ships with a massive new sample library containing a large number of studio-quality instruments. Included are a full symphonic orchestra, a Grand Piano, an electric piano taken from NI´s acclaimed ELEKTRIK PIANO, a painstakingly multi-sampled
electric guitar, a collection of surround effects and more.


KONTAKT 2 will be available in March 2005 for a suggested retail price of $579 / 499 Euro. An upgrade for all previous versions of KONTAKT will be available for $169 / 149 Euro. Owners of NI KOMPLETE CARE 2005 will receive the upgrade at no further costs. All NI KOMPLETE 2 purchases that are registered after January 20th, 2005 are also entitled to a free KONTAKT 2 upgrade.


For more information, please see www.ni-kontakt.com or check out our Kontant 2 product page (link below).