Powercore users will be excited to learn that the VStation-Powercore is now available for purchase. The classic software synthesizer has been further enhanced to incorporate both extended and brand new features not present on the original.


Amongst the new additions is the revolutionary 'Randomizer', a fabulous tool that enables you to create weird and wonderful patches. The feature has two settings, one that defines the amount of the synth to be randomized and the other that determines the strength of the randomization. A simple mouse click is all that's required after that to produce an unlimited supply of different patches, including some of the most unbelievable sounds you're likely to hear! One of the expanded areas is the filter section, which now has a variety of different modes available. The filter can be set to Low- ,Mid- or High-pass at 12 or 24dB per octave, as required.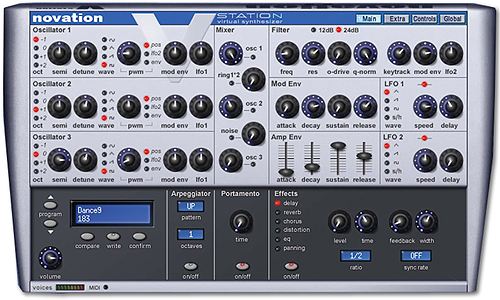 Novation Brand Director Ian Jannaway comments: "Novation is delighted to announce that it is now shipping the acclaimed V-Station Synthesizer for the TC Powercore Platform. This release will enable users on both PC and MAC platforms to enjoy using a high performance synthesizer with extremely low host CPU overhead."


Simply visit the TC Electronic website at http://www.tcelectronic.com/V-Station to purchase the VStation-Powercore or find out more.
Next to the Powercore version Novation has updated both the Windows and MacOS X versions of V-Station to v1.4. Changes: AU: Logic 7 compatible.

More info on V-Station on our product page (link below).