Focusrite has announced full details for SaffireControl, the software application that unlocks the onboard 24-bit/96kHz DSP of the Saffire audio interface, while also providing access to the hardware's advanced settings. Focusrite is also confirming that Steinberg's Cubase LE software is to be bundled for free with Saffire.


Introduced at the NAMM Show 2005 by Focusrite, the company behind the design of the Mbox, Saffire is a compact, portable desktop unit featuring multiple I/O and powerful onboard processing for the modern audio engineer.


The SaffireControl software suite (from the same team that created the control application for The Liquid Channel) includes a comprehensive I/O control plus Focusrite EQ, Compression, Amp Modelling and Reverb plug-ins. Focusrite front-end design is combined with software to provide effects processing on the incoming audio and foldback reverb over any of the separate headphone/monitor outputs, ensuring artists are kept happy and audio is tracked.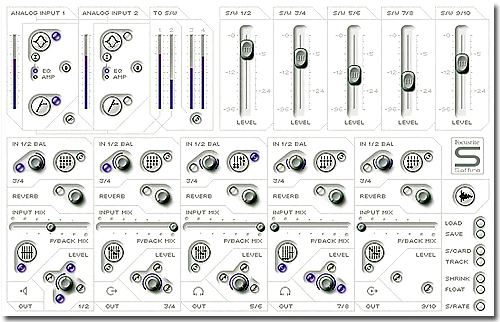 SaffireControl offers two preset modes of operation, allowing the hardware to function either as a comprehensive tracking tool, with custom foldback mixes (of incoming audio and tracks from a sequencer) for artists, or a standard soundcard, with eight analog outputs. Buttons within the main software application instantly recall these two interface performance setups, and of course all settings for either mode can be saved for later session recall.


Designed with workflow management in mind, the SaffireControl software can be set to whatever level of complexity is required by the engineer, with simple controls on the surface and more advanced settings always visible but only activated at the user's command. Once settings have been defined, SaffireControl can be shrunk down to a condensed format and set to 'float' continuously over the recording software in use, offering I/O signal control at a glance.
For more information, visit their web site at www.focusrite.com or check out our Saffire productpage (link below).