Clavia held a pressconference today at the MusikMesse where they announced the Nord Stage. The Nord Stage is based on the Electro and Lead 3. It's synth engine is based on the Lead 3 engine, but from what we understood it will get new sounds.

As soon as we get the pictures from the Messe and more details we will let you know.
13:09 Update:

As promised we searched for more information on the New Nord Stage, and we got a few details from Clavia. The Stage is not quite based on the Electro and Lead 3. However the Stage will contain an Organ, Piano adn a ONE-Oscillator synth engine. All three sections can be played as stand alone or in combination. As well the FX unit, Compression unit and EQ unit.

Again we keep looking for more details. Stay tuned!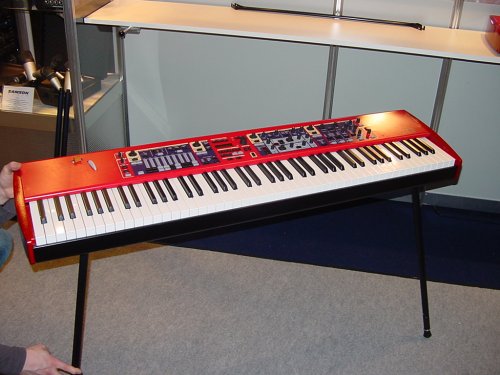 18:54 Update:

The features of the new Stage:

– Extensive effects section: Chorus, Flanger, Wah, Phaser, Tremolo, Ring Mod., Pan and Delays, plus Leslie emulation.

– Amplifier emulation that recreates Fender Twin, Roland Jazz Chorus, and Rhodes Suitcase amplifiers.

– Reverb unit with Hall, Room and Spring reverbs

– On-board Compressor.

– hands-on access to each parameter directly on the panel

– pitch stick and modulation wheel

– Organ, Piano and Synthesizer sections

– 6-voice multitimbral: 2 manuals of the organ, 2 pianos, and 2 Synthesizers

– A/B switch for 2 independent panel settings

– 2 split points on 10 different locations, thereby creating 3 key zones

– Vox and the Farfisa organs

– Mega Clavinet D6, Wurlitzer 200A, Rhodes Mark 1, Electric Grand model G Yamaha C7 Acoustic Grand Piano and an upright piano (both ac. pianos produce sympathetic string resonance)

– USB port

– subtractive synth architecture, with FM, digital wavetables

– Filter section with 12db and 24db filters

– Equalizer, vibrato, a glide function, and a continuous unison knob

– Rhodes-type detachable legs
April 7, 08:56 Update:
More and more details are coming available on the internet. Here are the latest details on the Nord Stage:


1. The Nord Stage is designed to be a companion to the Electro2, not a replacement, hence the evasion of naming it an "Electro3", or "Electro2.5", or even "Electro2 88".

2. Part of Clavia's goal was to make something that was a more *pianistic* instrument: weighted action, 88 keys, high-quality acoustic and electric pianos … plus the organ and synth sections. Kind of a flipped Electro2 concept; except, instead of the organ section being an afterthought, it's better than it ever was!

3. There are still a few naysayers here who think they've been totally abandoned and ignored by Clavia. May I state yet again – There ARE new Electro2 sounds coming out! This spring! Probably after the Stage moves into the mass production phase. I *have* heard one of the sounds – a resampling of the factory-supplied acoustic piano – and it sounds WONDERFUL. Night and day between the "re-ported" sound and how it originally sounds on the Electro2.

4. Yes, the Stage has 88 fully weighted keys. I have not personally felt the action, however it is promised to be expressive and stage- worthy.

5. No actual weight is available yet, but – sans legs – we're looking at under 45lb. (This *may* be wrong, but close.)

6. Clavia has not stated an MSRP yet.

7. Clavia is aiming for a summer ship date. Summer can mean May …



Thanks to Jason Stanfield – Nord USA, as posted on the NordElectro List.
First image we found on the net of the Nord Stage: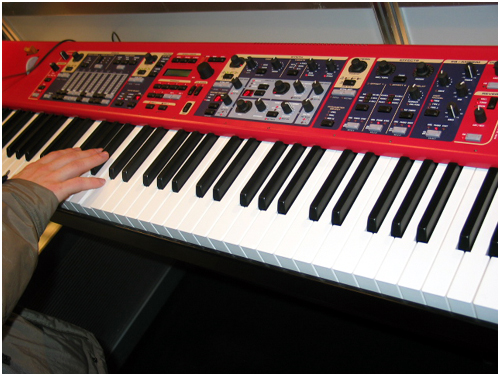 April 7. Final Update!

It is official now. Clavia is presenting The Ultimate Stage Piano!


– Organ section:

Hammond B3 Organ

Vox Continental Organ

Farfisa Organ



– Piano section:

Grand Piano

Upright Piano

Electric Grand Piano

Rhodes Piano

Wurlitzer Piano

Hohner Pianet

Hohner Clavinet



– Synth section:

Subtractive Synthesis

Wavetable Synthesis

FM Synthesis



– Extern Section:

Easy Control of Other MIDI Gear



– Morph Function:

Produce Radical Changes to a Sound in a Fast and Easy Way



– Effects:

Amplifier/Speaker Simulation

Leslie

Reverb

Delay

Compressor

Chorus

Phaser

Flanger

Wah-Wah

Ring Modulation

Pan

Tremolo

Equalizer



– Hardware:

88 Fully Weighted Keys

Aftertouch

Pitch Stick

Modulation Wheel

Three Zone Split

Four Audio Outputs