M-Audio gear transforms GarageBand into a complete, easy-to-use studio. Throw down professional loops. Play great sounding instruments from a real keyboard. Record vocals, guitar or anything else with a pro mic and audio interface. And hear it all the way it was meant to sound with high-quality audio monitors.


M-Audio makes a variety tools that help you get the most from your GarageBand experience, including USB MIDI keyboard controllers, audio interfaces, microphones, audio monitors, and loop libraries. The latest addition in this product line is iControl.


iControl delivers total tactile control over GarageBand. Dedicated transport buttons and jog wheel put record and playback functions at your fingertips. Its eight rotary encoders are easily assigned to track functions like volume and pan, or to parameters for effects such as GarageBand's EQ or any other AU plug-in. iControl also provides dedicated mute, solo and record-enable buttons for each track, plus a master volume fader. iControl is USB bus-powered, class-compliant, and automatically recognized by GarageBand, making setup a breeze. iControl puts you in complete creative flow with your GarageBand experience.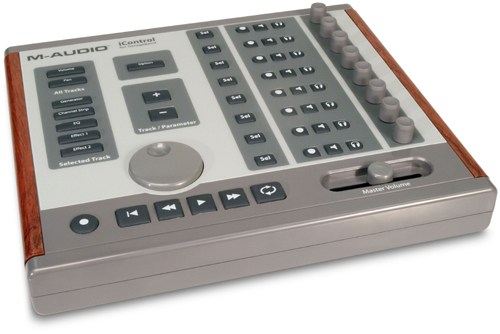 Top features are:

– control volume, pan, aux send, mute, solo and record for multiple tracks

– control parameters for GarageBand or AU plug-in effects

– dedicated transport buttons and jog wheel for song positioning

– automatically recognized by GarageBand for easy setup

– USB bus-powered—no power adapter required


MSRP for iControl is $180 (about euro 142). For more details visit our iControl product page (link below).