Digidesign today announced the new D-Command console. The Digidesign® D-Command™ tactile worksurface is the newest member of the ICON family, packing amazing control and ICON-exclusive Pro Tools® functionality into a medium-format console. As with the flagship large-format ICON D-Control™ console, D-Command utilizes Pro Tools|HD® Accel as its DSP mix engine and Pro Tools|HD interfaces and peripherals for system I/O. With D-Command, operators have powerful hands-on command over every aspect of a Pro Tools project, including recording, editing, mixing, and processing — with integrated video and delivery — from a relatively small, but expandable, worksurface.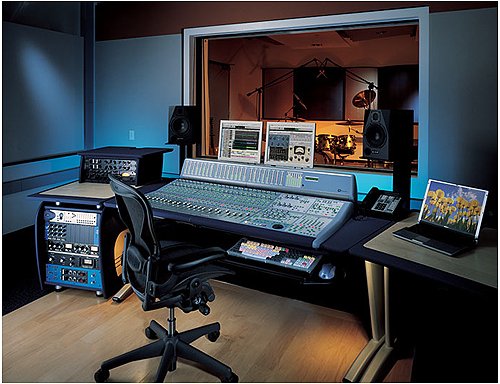 ICON D-Command Features:

– Full integration with Pro Tools|HD systems

– Ergonomic eight-physical fader/channel strip layout; expandable to 24 physical faders/channel strips

– High-quality, touch-sensitive motorised faders

– Two touch-sensitive, multi-purpose rotary encoders per channel strip with LED rings and LCD displays

– 17 illuminated pushbuttons per channel strip to facilitate fast selection of channel modes and attributes

– Two bar-graph meters per channel and eight Master section bar-graph meters

– Comprehensive monitor/communications control section

– Dedicated, center-section control panels for EQ and dynamics plug-in control

– Includes the XMON monitoring system; a remote, rack-mounted analog I/O audio monitor and communications system that is capable of monitoring up to 5.1 surround

– Patent pending, high-speed Ethernet protocol connects console worksurface to Pro Tools|HD Accel DSP mix engine, providing 200 times more bandwidth than MIDI-based controllers


ICON D-Command is expected to cost around 15.000 euros for the 8 faders version and 10.000 euros for the 16 faders expansion pack. For more information please visit www.digidesign.com or check out our product page (link below).