Beginning May 9th McDSP will be shipping LE versions of FilterBank, CompressorBank, and Chrome Tone, each for $195 (USD). The LE versions are RTAS/AS only, Mac OS X and Windows XP. In all other aspects, the LE line operates identically to the full line. Presets created in LE versions are readable by the full versions. Sessions using the LE versions will restore on TDM systems with the TDM versions, and vice versa.


The LE versions have a subset of the total number of configurations available in each full version product.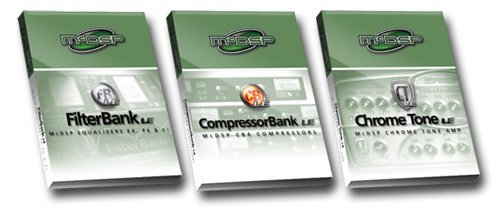 FilterBank LE – Includes E4, P4, and F1 configurations made up of powerful variable Q Parametric and Shelving EQ as well as resonant peak Filters.

CompressorBank LE – Includes the CB4 configuration with emulations of The LA-2A, dbx 165, Fairchild 670, 1176, Neve 33609 and more.

Chrome Tone LE – Includes an Amp configuration with Gating, Distortion, Compression, EQ, Pre Amp modeling, a Cabinet simulator and Spring/Room Reverb.


Chrome Tone LE, FilterBank LE and CompresorBank LE are RTAS, and AudioSuite, OSX and Win XP with a retail price of $195 (Euro 152) each. Estimated ship date, May 9th 2005.


For more info check out our McDsp LE plugin line product pages (links below).