Silverspike R2 has been released for VST on Mac OS X. It has been tested with all major audio software including Cubase SX, Ableton Live and Logic Pro (using fxpansion's VST/AU adapter). R2's high quality reverberation at low CPU consumption is finally available for the Mac.
New reverb and room simulator R2 offers total control and highest quality. Two sound sources and one stereo microphone can be positioned in a room of nearly arbitrary size. The spectrum of early and late reflections can be adjusted in a graphical frequency response display letting you model sound spaces from kitchens to concert halls. Versatility and quality make this plugin a must-have for any audio engineer and producer.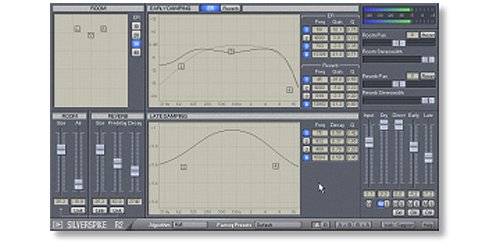 Features:

1. High quality room simulation and reverberation

2. Simulates rooms of variable size

3. Early and late frequency response fully adjustable

4. Adjustable pan and stereowidth for early and late reflections

5. Flexible mixing of dry and direct signal with early and late reflections

6. Highly optimized DSP code providing low CPU consumption

7. 32 bit floatingpoint audio processing

8. Samplerates from 32 kHz up to 192 kHz

9. Fully VST compatible


More information at www.silverspike.com or check out our R2 product page (link below).