The Perfect Combination of Value and Performance.

Stanton's RM.406 and RM.404 are professional 4-channel mixers for club and mobile DJs. Not only do they look great on the outside, they're also built with SST™ for killer sound quality. And they come loaded with all the inputs and outputs you could possibly need—including a Subwoofer output (RM.406 only) and a dedicated iPod™ input. And with Stanton's innovative Illumiknobs™ and backlit buttons, mixing in the dark is easy. If you demand quality and value in your mixer, check out the new RM.406 and RM.404!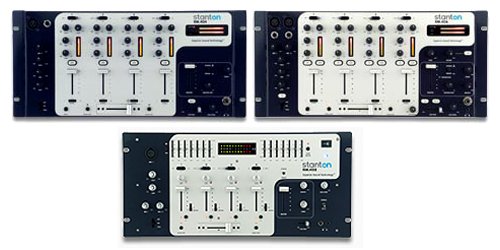 The RM.402 uses Stanton's Superior Sound Technology to provide studio-quality sound that's miles ahead of the competition. And with a choice of three Phono, nine Line and three Microphone inputs, the RM.402 can handle even the most complex mobile and club rigs. A fully assignable crossfader with Fader Start capability makes it perfect for use with CD players, while dual 7-band equalizers let DJs tailor the sound to any venue. The RM.402's impressive specs also include a balanced Master output, plus Zone and Booth outputs. Whether for mobile, club or home use, the RM.402 delivers maximum bang for your buck.
Engineered with Stanton Superior Sound Technology™

Buy a Stanton mixer with SST, and you're guaranteed excellent sound quality and value. SST mixers deliver razor-flat frequency response to put the clarity back in your music. You also get very low distortion, ensuring your mixes are always clean and transparent—the way they were intended to be—while ultra-low noise circuitry keeps hiss and hum out of the way. SST mixers are also immune to channel bleed and can give you dead quiet fader kill. Don't believe us? Check out the detailed report that comes with every SST mixer—proof that we meet or exceed the most demanding audio specifications anywhere!
Price indication for the new mixers are:

– RM.402 / Euro 295

– RM.404 / Euro 440

– RM.406 / Euro 500


For more information please visit www.stantondj.com or check out our RM mixers product pages (links below).