DashSignature has released its long awaited EVE ONE synthesizer, the last addition to the DashSignature EVE products family. EVE ONE is a sample-based VST virtual instrument aimed to reproduce vintage electronic sounds, which offers an innovative patch creation system thanks to the exclusive SoundWizard feature.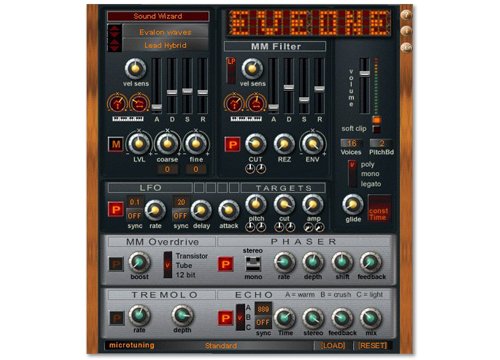 When a specific sound is required (for example a Rhodes piano with some overdrive), SoundWizard, in combination with the sound browser, lets you set-up time of the instrument in a few seconds, instead of browsing through thousand of presets. Despite its apparent simplicity EVE ONE is an extremely powerful synthesizer combined with an advanced DSP section, and it is the result of the collaboration of experienced synthesizer designers and experienced developers. A selection of 72Mb of top-quality vintage samples is also bundled with EVE ONE.


Features:

– Sound Wizard: macro preset system for easy sound programming

– Multisample based oscillator, can load any DashSound (EVE and Knagalis) and Wusiksation SoundSet (wusik.com)

– Amplitude ADSR envelope with keytracking

– Multi Mode Resonating Filter: LP, HP and HP, with ADSR envelope, keytracking, keyscaling, envelope modulation depth. The cutoff frequency can be controlled through the Modulation Wheel and Aftertouch. MIDI messages.

– LFO with tempo sync, delay, and attack time, pitch and filter cutoff targets, amp target with gate mode

– LFO modulation depth can be controlled via the Modulation Wheel and Aftertouch MIDI messages

– Polyphony up to 100 voices

– Mono mode with true Legato and adjustable glide time and mode

– Multi Mode Overdive: Transistor, Tube, 12 bit DAC emulation

– Vintage Phaser: Mono/Stereo, 4 stages

– Vintage Tremolo

– Echo: stereo delay effect with tempo sync and 3 tone mode

– Limiter/Soft saturator


EVE ONE is available for €30,00 or USD $38.00. DashSignature users who bought EVE or one of the DashSound libraries can buy it at the low price of €15,60 or USD $19.75.


For more information and to download a free version with a reduced sample library visit www.dashsignature.com or check out our product page (link below).