Stanton has announced it is now shipping two new tabletop CD players in their award-winning line of DJ products. The new C.304 and C.303 players are available through authorized Stanton retailers.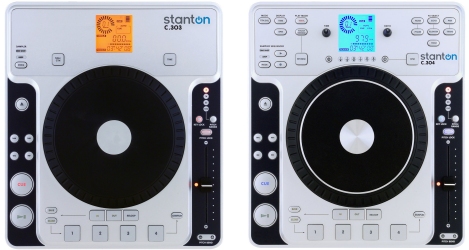 "The C.304 and C.303 are excellent self-contained solutions for DJs who want to scratch discs like vinyl," says Henri Cohen, Stanton's Vice President of Sales & Marketing. "They allow DJs all the creativity of turntables—along with effects, looping and sampling—to give even more creative license to serious DJs."
The Stanton C.304 is the company's flagship tabletop CD player. Its cutting-edge design is centered around a large, touch-sensitive jog wheel that provides the control DJs require for excellent turntablist performances. Eight high-quality DSP effects in the C.304 (Filter, Echo, Phase, Flanger, Transform, Pan, Scratch, Skid) with auto beat-sync allow for uniquely powerful performances, while adjustable pitch with Key Lock and Pitch Bend make it easy to customize mixes. The C.304 has onboard sampling with four trigger buttons and cue memory. Its reliable, anti-shock playback, easy-to-read LCD display with visual marker for track position, and S/PDIF digital output make it perfect for all DJ applications.
Another new Stanton tabletop CD player, the C.303, offers many of the C.304's powerful features in a slightly scaled-back and affordable package. Designed as a "workhorse" CD player, it includes a large jog wheel, a 10-second anti-shock buffer, and digital features like Key Lock, seamless looping and four sample trigger buttons.